YV5EPM
Lookups: 2390
| Bureau | Direct | LoTW | eQSL
Name:
EFRAIN (FRAN) PESTANA
QTH:
CARACAS
Country:
Venezuela
Grid:
FK60OM
Web:
Email:
yv5epm@gmail.com
EFRAIN PESTANA
PO Box 66710
CARACAS C.P. 1061
Venezuela
Licensed since:
Hidden
Born:
1975
NEW CALLSIGN YV5PM
ALL cards I receive will be answered sure!!!!(100%) Direct or Buro
I REALLY LIKE PAPER QSLs, I collect QSL cards, including SWL, so, please send me your QSL via DIRECT or BURO, I will send mine in the same way.
QSL INFORMATION:
For

Direct please enclose SAE + 2 Green Stamps or 1 IRC. You can use OQRS (2 USD)
Buro

=

Buro,

or you can use OQRS
I upload my log to

LoTW

and

eQSL

each 2 weeks
Check your call on my Log (YV5EPM)
I have yet many QSLs Cards from my old call YV5EPM, so, you can request it via Buro, Direct or OQRS

only cards received via Buro, Direct or requested by OQRS will be answered.

All SWL cards will be answered sure.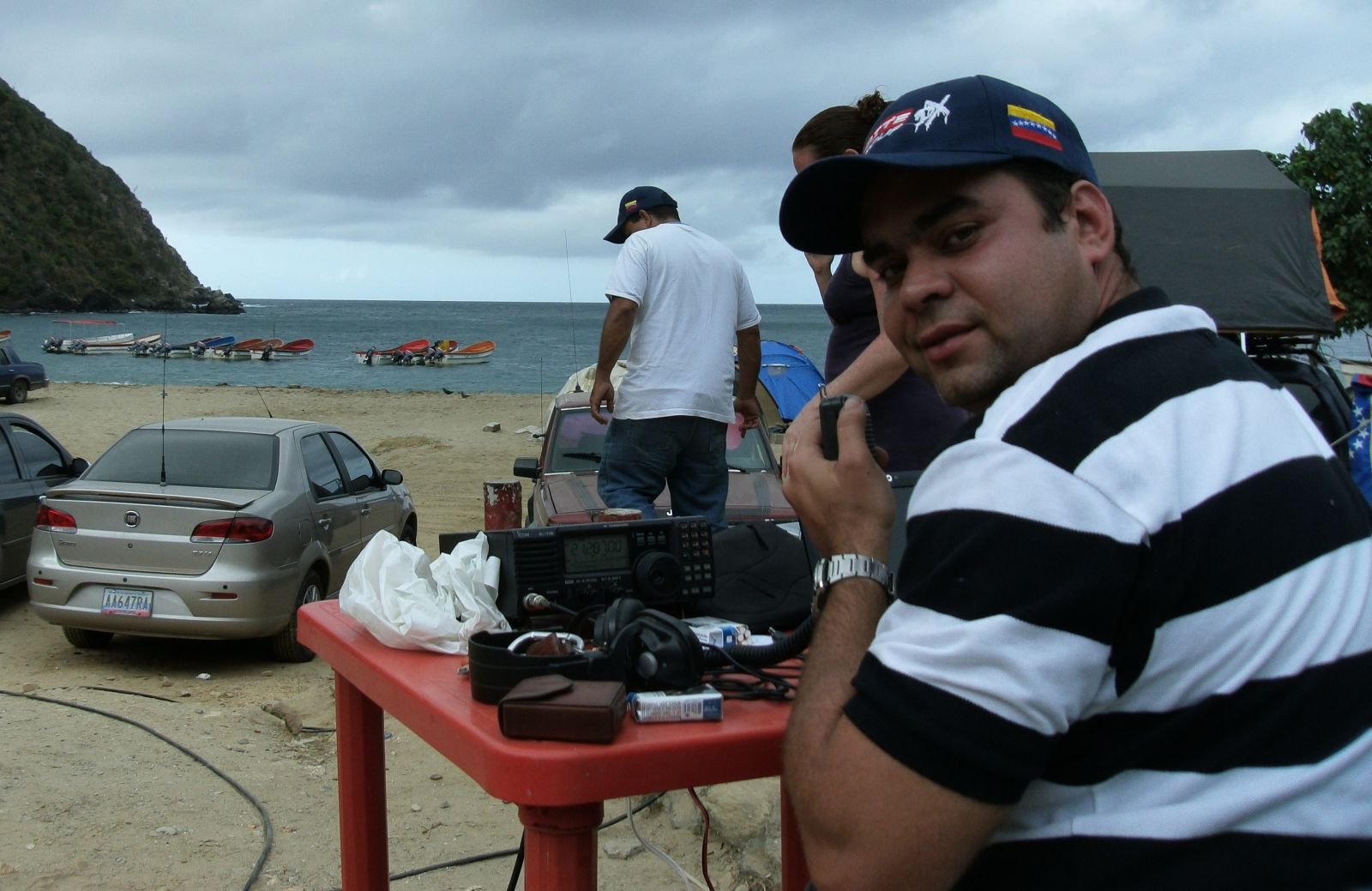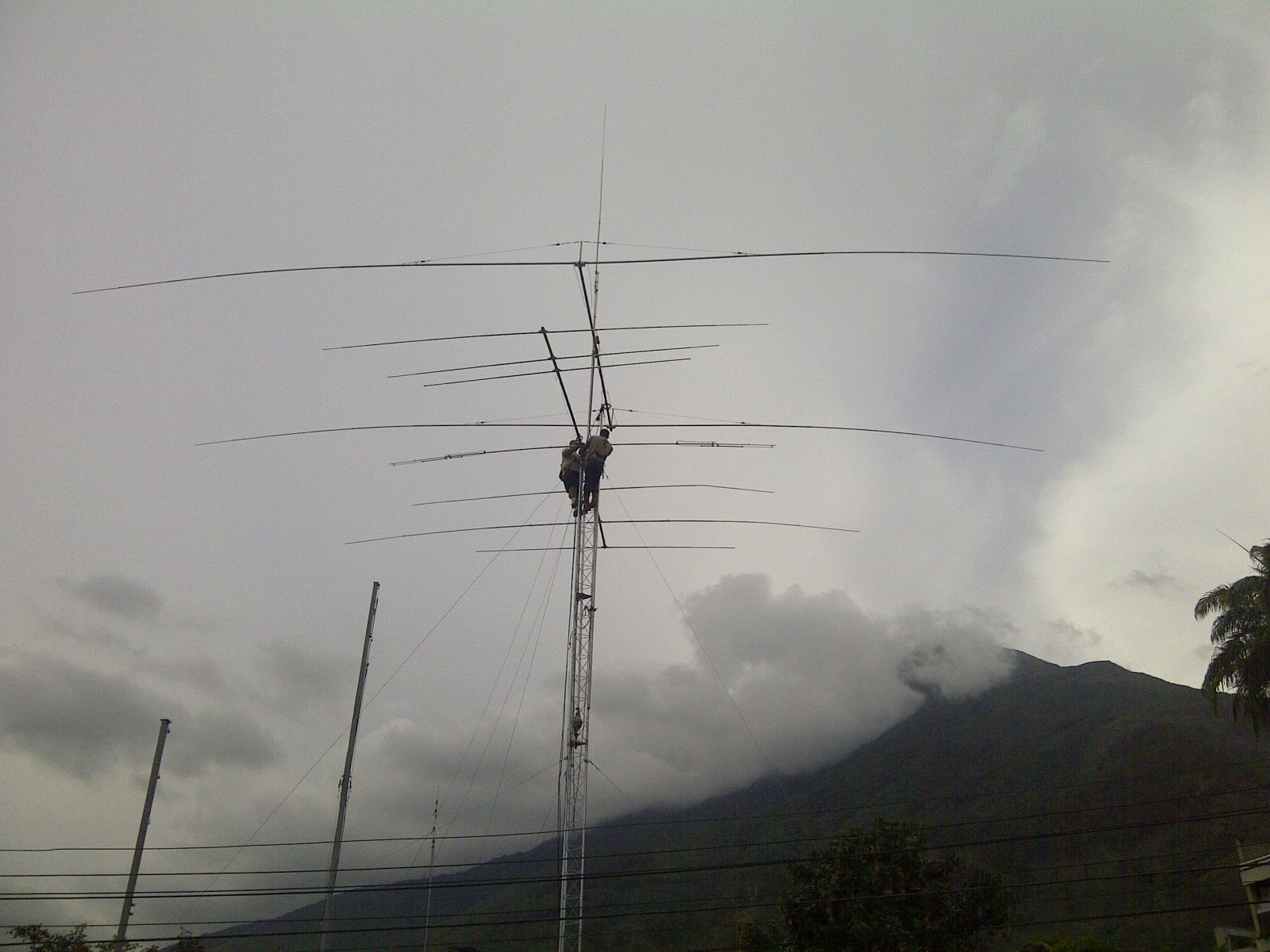 ANTENNAS:
Yagi 2 elements full size (19,6 mts each element) monoband for 40 mts (homemade

YV5APF

)

Yagi 7 elements (8,9 mts boom) for 10, 15 and 20 mts (homemade

YV5APF

)

Antron 99, vertical antenna for 10, 12 and 17 mts.
| Source | Activity | Date time |
| --- | --- | --- |
| DXC | DX de KC2WUF: 7229.0 YV5EPM 2346Z | 2015-03-29 23:46:00 |
| DXC | DX de YY5SSG: 7185.5 YV5EPM cq cq cq ((No Takers)) Contest | 2015-03-29 09:51:00 |
| DXC | DX de K3TN: 7185.4 YV5EPM 0903Z | 2015-03-29 09:03:00 |
| DXC | DX de N9KNP: 7185.5 YV5EPM 0816Z | 2015-03-29 08:16:00 |
| DXC | DX de N9BC: 7166.4 YV5EPM CQ WPX 0718Z | 2015-03-29 07:18:00 |
| DXC | DX de KY6LA: 7224.8 YV5EPM 0655Z | 2015-03-29 06:55:00 |
| DXC | DX de KE6K: 7225.0 YV5EPM 0629Z | 2015-03-29 06:29:00 |
| DXC | DX de KF5HIQ: 7224.9 YV5EPM GL FRAN 0613Z | 2015-03-29 06:13:00 |
| DXC | DX de K0JPL: 7225.0 YV5EPM 0541Z | 2015-03-29 05:41:00 |
| DXC | DX de SV3ICL: 7225.0 YV5EPM 73 0519Z | 2015-03-29 05:19:00 |
| DXC | DX de EW8OW: 7058.8 YV5EPM LSB 0259Z | 2015-03-29 02:59:00 |
| DXC | DX de KN5TX: 7177.0 YV5EPM CQ WPX Contest LSB 0803Z | 2015-03-28 08:03:00 |
| DXC | DX de VE4EA: 7176.0 YV5EPM LSB 0743Z | 2015-03-28 07:43:00 |
| DXC | DX de WB5EIN: 7175.9 YV5EPM WPX LSB 0712Z | 2015-03-28 07:12:00 |
| DXC | DX de VE7FO: 7119.0 YV5EPM 0613Z | 2015-03-28 06:13:00 |
| DXC | DX de CA4OMT: 7119.5 YV5EPM good contest 73!! 0505Z | 2015-03-28 05:05:00 |
| DXC | DX de RM3DA: 7119.4 YV5EPM LSB 0446Z | 2015-03-28 04:46:00 |
| DXC | DX de DF7KB: 7117.0 YV5EPM 0322Z | 2015-03-28 03:22:00 |
| DXC | DX de CT7ABP: 7115.0 YV5EPM LSB 0225Z | 2015-03-28 02:25:00 |
| DXC | DX de PD5JVD: 14243.0 YV5EPM tnx 59 2207Z | 2015-03-27 22:07:00 |
| DXC | DX de VE2BBB: 14243.0 YV5EPM 73 2201Z | 2015-03-27 22:01:00 |
| DXC | DX de SQ8MXL: 14243.0 YV5EPM 5.9 Peter 2159Z | 2015-03-27 21:59:00 |
| DXC | DX de PD0DCH: 14243.0 YV5EPM 5/9 2158Z | 2015-03-27 21:58:00 |
| DXC | DX de IK7GUW: 14243.0 YV5EPM 2153Z | 2015-03-27 21:53:00 |
| DXC | DX de IZ2ZSH: 14243.0 YV5EPM Cq dx caracas 2149Z | 2015-03-27 21:49:00 |
| DXC | DX de IZ0VJK: 14243.0 YV5EPM 2140Z | 2015-03-27 21:40:00 |
| DXC | DX de 9K2MB: 14243.0 YV5EPM 59+ in Wafra great signal 2137Z | 2015-03-27 21:37:00 |
| DXC | DX de HA1BL: 14243.0 YV5EPM 59 2136Z | 2015-03-27 21:36:00 |
| DXC | DX de SP3NNP: 14243.0 YV5EPM Tnx QSO! cq dx.. 2132Z | 2015-03-27 21:32:00 |
| DXC | DX de IZ8STO: 7145.0 YV5EPM THANKS 2348Z | 2015-03-26 23:48:00 |
| DXC | DX de VE2PIB: 7145.0 YV5EPM 2343Z | 2015-03-26 23:43:00 |
| DXC | DX de G1TDN: 7145.0 YV5EPM CARACUS VENEZUELA TX-FRAN 73 234 | 2015-03-26 23:42:00 |
| DXC | DX de IZ7RJT: 7145.0 YV5EPM 2341Z | 2015-03-26 23:41:00 |
| DXC | DX de EA7JBD: 7145.0 YV5EPM TKS FRAN 2339Z | 2015-03-26 23:39:00 |
| DXC | DX de CT1BXT: 7145.0 YV5EPM 2322Z | 2015-03-26 23:22:00 |
| DXC | DX de GW6LHF: 7146.0 YV5EPM 2300Z | 2015-03-26 23:00:00 |
| DXC | DX de DL7NN: 7146.0 YV5EPM Strong! 2257Z | 2015-03-26 22:57:00 |
| DXC | DX de KR3NO: 7166.0 YV5EPM S9 +10 0410Z | 2015-03-26 04:10:00 |
| DXC | DX de LZ3FM: 7166.0 YV5EPM TNX 0405Z | 2015-03-26 04:05:00 |
| DXC | DX de UY7VV: 7166.0 YV5EPM tnx QSO 0351Z | 2015-03-26 03:51:00 |
| DXC | DX de HI8PLE: 7166.1 YV5EPM 0344Z | 2015-03-26 03:44:00 |
| DXC | DX de PT7WM: 14240.0 YV5EPM 59 plus 2235Z | 2015-03-25 22:35:00 |
| DXC | DX de YV4KW: 14257.0 YV5EPM LOTW confirm, Venezuela CQ 2202Z | 2015-03-25 22:02:00 |
| DXC | DX de G1TDN: 14257.0 YV5EPM CARACAS VENEZUELA TX-73 FRAN 2 | 2015-03-25 21:58:00 |
| DXC | DX de ON3EI: 14257.0 YV5EPM TNX 73 / 88 ELSIE 2156Z | 2015-03-25 21:56:00 |
| DXC | DX de M6ETL: 14257.0 YV5EPM tnx 59 2151Z | 2015-03-25 21:51:00 |
| DXC | DX de KD8NCP: 14243.0 YV5EPM 59+20 in Ohio Thanks Fran 0114Z | 2015-03-20 01:14:00 |
| DXC | DX de NY0P: 14243.0 YV5EPM 0113Z | 2015-03-20 01:13:00 |
| DXC | DX de W7BBQ: 14243.0 YV5EPM Good on LotW 0105Z | 2015-03-20 01:05:00 |
| DXC | DX de AI4EY: 14243.0 YV5EPM 0104Z | 2015-03-20 01:04:00 |
| DXC | DX de HI8KW: 14243.0 YV5EPM USB 0104Z | 2015-03-20 01:04:00 |
| DXC | DX de KB8UYZ: 14243.0 YV5EPM 0101Z | 2015-03-20 01:01:00 |
| DXC | DX de KB1VWQ: 14243.0 YV5EPM Thanks Fran - Good to hear you again | 2015-03-20 00:54:00 |
| DXC | DX de W4LT: 14243.0 YV5EPM 0046Z | 2015-03-20 00:46:00 |
| DXC | DX de N4UHZ: 14243.0 YV5EPM Thanks Fran 0041Z | 2015-03-20 00:41:00 |
| DXC | DX de SV2HTX: 7172.0 YV5EPM 5/9+10db---Tnx & 73' 0346Z | 2015-03-15 03:46:00 |
| DXC | DX de R4WAB: 7172.0 YV5EPM 0330Z | 2015-03-15 03:30:00 |
| DXC | DX de W4GHS: 7163.0 YV5EPM 0135Z | 2015-03-15 01:35:00 |
| DXC | DX de G1SSL: 7163.0 YV5EPM 5/9 FRAN CQ FK60om 0127Z | 2015-03-15 01:27:00 |
| DXC | DX de 2E0HAW: 7163.0 YV5EPM Thanks:) 0109Z | 2015-03-15 01:09:00 |
| DXC | DX de GM7NYB: 7163.0 YV5EPM 0104Z | 2015-03-15 01:04:00 |
| DXC | DX de YO3AIS: 7162.0 YV5EPM 100.w Fram Caracas 0040Z | 2015-03-15 00:40:00 |
| DXC | DX de G1TDN: 7162.0 YV5EPM CARACAS VENEZUELA TNX FRAN 0030Z | 2015-03-15 00:30:00 |
| DXC | DX de IK3PCZ: 7162.0 YV5EPM loud splx 0030Z | 2015-03-15 00:30:00 |
| DXC | DX de YV8ER: 7162.0 YV5EPM CQ CQ CQ 0019Z | 2015-03-15 00:19:00 |
| DXC | DX de 9A7C: 7162.0 YV5EPM 0018Z | 2015-03-15 00:18:00 |
| DXC | DX de YO6PMX: 7162.0 YV5EPM cq dx 0001Z | 2015-03-15 00:01:00 |
| DXC | DX de SQ5BLC: 7163.0 YV5EPM tnx. 73 0503Z | 2015-03-14 05:03:00 |
| DXC | DX de K0MJT: 7163.0 YV5EPM 59 Efrain into Iowa best 73 0439Z | 2015-03-14 04:39:00 |
| DXC | DX de NQ2F: 7163.0 YV5EPM 0431Z | 2015-03-14 04:31:00 |
| DXC | DX de KJ4VTH: 7163.0 YV5EPM 0429Z | 2015-03-14 04:29:00 |
| DXC | DX de PA5WK: 7160.0 YV5EPM tnx fran for contact 7 2322Z | 2015-03-13 23:22:00 |
| DXC | DX de EB1DJ: 7160.0 YV5EPM 5/9 TNX QSO 2320Z | 2015-03-13 23:20:00 |
| DXC | DX de IQ5LV: 7160.0 YV5EPM good signal 2319Z | 2015-03-13 23:19:00 |
| DXC | DX de SP8RHL: 7160.0 YV5EPM 5/9 + 10 tnx Fran qso 40m 73 23 | 2015-03-13 23:16:00 |
| DXC | DX de IZ2GMK: 7160.0 YV5EPM 59 +10 2313Z | 2015-03-13 23:13:00 |
| DXC | DX de EA7CQQ: 7160.0 YV5EPM TNX 59/73 2312Z | 2015-03-13 23:12:00 |
| DXC | DX de IZ8DPJ: 7160.0 YV5EPM FRAN 2311Z | 2015-03-13 23:11:00 |
| DXC | DX de EA5HRO: 7160.0 YV5EPM 59 CARACAS 2307Z | 2015-03-13 23:07:00 |
| DXC | DX de 3Z9AM: 7160.0 YV5EPM Big signal 73 2255Z | 2015-03-13 22:55:00 |
| DXC | DX de EA1HDB: 7160.0 YV5EPM 59+10-15 73 galicia vigo 2243Z | 2015-03-13 22:43:00 |
| DXC | DX de IZ1ZLI: 7160.0 YV5EPM Tnx qso 59/20...73 Franc 2241Z | 2015-03-13 22:41:00 |
| DXC | DX de PA3FIC: 7160.0 YV5EPM 73s fran 2240Z | 2015-03-13 22:40:00 |
| DXC | DX de DL6NDU: 7160.0 YV5EPM tnx fer qso 2231Z | 2015-03-13 22:31:00 |
| DXC | DX de IZ6CLZ: 7141.0 YV5EPM cq cq 0439Z | 2015-03-13 04:39:00 |
| DXC | DX de UT0EZ: 7140.0 YV5EPM 0406Z | 2015-03-13 04:06:00 |
| DXC | DX de UY7VV: 7141.0 YV5EPM tnx QSO 0348Z | 2015-03-13 03:48:00 |
| DXC | DX de ON2LES: 7141.0 YV5EPM 0340Z | 2015-03-13 03:40:00 |
| DXC | DX de UX3IN: 7141.0 YV5EPM tnx 73 0336Z | 2015-03-13 03:36:00 |
| DXC | DX de WA2REN: 7141.0 YV5EPM 0329Z | 2015-03-13 03:29:00 |
| DXC | DX de HB9FEV: 7162.0 YV5EPM 5/9 here in Switzerland 0011Z | 2015-03-13 00:11:00 |
| DXC | DX de PY4RP: 7158.0 YV5EPM 0008Z | 2015-03-13 00:08:00 |
| DXC | DX de SB7W: 7158.0 YV5EPM Ty for contact strong as allways | 2015-03-13 00:06:00 |
| DXC | DX de MI6CWC: 7158.0 YV5EPM 73s fr Coleraine N.I 0004Z | 2015-03-13 00:04:00 |
| DXC | DX de WB2JUF: 7158.0 YV5EPM 2357Z | 2015-03-12 23:57:00 |
| DXC | DX de K1ZZ: 7230.0 YV5EPM LSB 2347Z | 2015-03-08 23:47:00 |
| DXC | DX de N2NF: 7229.0 YV5EPM 2230Z | 2015-03-08 22:30:00 |
| DXC | DX de WB0YYE: 7213.0 YV5EPM 0314Z | 2015-03-08 03:14:00 |
| DXC | DX de K2HJB: 7213.0 YV5EPM NA096 0312Z | 2015-03-08 03:12:00 |
| DXC | DX de KF6BRF: 7207.5 YV5EPM 0257Z | 2015-03-08 02:57:00 |
| DXC | DX de W4YBB: 7207.5 YV5EPM 0222Z | 2015-03-08 02:22:00 |
| DXC | DX de W0AIH: 7207.5 YV5EPM 0221Z | 2015-03-08 02:21:00 |
| DXC | DX de K9VD: 14338.3 YV5EPM 0217Z | 2015-03-08 02:17:00 |
| DXC | DX de WB4EJC: 7208.0 YV5EPM 0201Z | 2015-03-08 02:01:00 |
| DXC | DX de YV5EPM: 7138.5 TM7X REF Contest 0219Z | 2015-02-22 02:19:00 |
| DXC | DX de YV5EPM: 7130.0 F5TJX REF Contest 0213Z | 2015-02-22 02:13:00 |
| DXC | DX de YV5EPM: 7147.0 TK5KP REF Contest 0149Z | 2015-02-22 01:49:00 |
| DXC | DX de YV5EPM: 7158.0 TK5KP correct ferc 0149Z | 2015-02-22 01:49:00 |
| DXC | DX de YV5EPM: 7155.0 JO1DZA LP tnx Yuki 2207Z | 2015-01-23 22:07:00 |
| DXC | DX de YV5EPM: 14240.0 WW6RG/V73 good sig 0408Z | 2014-12-18 04:08:00 |
| DXC | DX de YV5EPM: 7173.0 YY5DOG Strong 0337Z | 2014-11-26 03:37:00 |
| DXC | DX de YV5EPM: 7173.0 YY5DOG CQ dx 0231Z | 2014-11-26 02:31:00 |
| DXC | DX de YV5EPM: 14230.0 TU0PAX simplex 0219Z | 2014-11-15 02:19:00 |
| DXC | DX de YV5EPM: 21290.0 CE0Y/DL8LR simplex for now 0141Z | 2014-10-17 01:41:00 |
| DXC | DX de YV5EPM: 28480.0 CE0Y/DL8LR simplex 0111Z | 2014-10-17 01:11:00 |
| DXC | DX de YV5EPM: 7160.0 YY5WB CQ DX and company 0347Z | 2014-10-11 03:47:00 |
| DXC | DX de YV5EPM: 14215.0 JW2OTA tnx simplex 2216Z | 2014-09-26 22:16:00 |
| DXC | DX de YV5EPM: 14205.0 4W6LU to SA tnx simplex 2154Z | 2014-09-26 21:54:00 |
| DXC | DX de YV5EPM: 14247.0 PA3WEG 2142Z | 2014-09-03 21:42:00 |
| DXC | DX de YV5EPM: 7130.0 IX1IXG CQ CQ SA 0149Z | 2014-08-29 01:49:00 |
| DXC | DX de YV5EPM: 14269.0 JW/SQ9DIE 2350Z | 2014-08-24 23:50:00 |
| DXC | DX de YV5EPM: 7125.0 5K4FF 0119Z | 2014-08-09 01:19:00 |
| DXC | DX de YV5EPM: 7183.0 W1/YO9GJY YL Stefi 0407Z | 2014-08-01 04:07:00 |
| DXC | DX de YV5EPM: 14214.9 RA3QVQ 0238Z | 2014-08-01 02:38:00 |
| DXC | DX de YV5EPM: 14188.0 RV6LPT 0215Z | 2014-08-01 02:15:00 |
| DXC | DX de YV5EPM: 7174.1 HZ1ADL contest 0127Z | 2014-07-27 01:27:00 |
| DXC | DX de YV5EPM: 14173.0 OZ/PD7YY EU-172 2241Z | 2014-07-23 22:41:00 |
| DXC | DX de YV5EPM: 14218.0 MS0WRC tnx 2129Z | 2014-06-19 21:29:00 |
| DXC | DX de YV5EPM: 18150.0 CE0Y/UA4WHX tnx Vlad 0221Z | 2014-04-17 02:21:00 |
| DXC | DX de YV5EPM: 14243.0 MM1ACM 2104Z | 2014-04-16 21:04:00 |
| DXC | DX de YV5EPM: 7223.0 YY5DOG wpx 0403Z | 2014-03-30 04:03:00 |
| DXC | DX de YV5EPM: 7166.0 YV4DNN CQ DX 0126Z | 2014-03-28 01:26:00 |
| DXC | DX de YV5EPM: 14242.0 IT9WKU 2308Z | 2014-03-14 23:08:00 |
| DXC | DX de YV5EPM: 14197.0 3C0BYP QSX 14210 tnx 0128Z | 2014-03-06 01:28:00 |
| DXC | DX de YV5EPM: 18147.0 3C0BYP QSX 18.160 TNX 2238Z | 2014-03-05 22:38:00 |
| DXC | DX de YV5EPM: 7137.0 A52JR simplex tnx 0109Z | 2014-02-04 01:09:00 |
| DXC | DX de YV5EPM: 7160.0 YY4CEG/7 from IOTA SA-012 0328Z | 2014-01-25 03:28:00 |
| DXC | DX de YV5EPM: 14209.0 EA7JZ/M CQ DX 1821Z | 2014-01-23 18:21:00 |
| DXC | DX de YV5EPM: 7184.0 YY4LNY/1 YL cq dx 0416Z | 2014-01-04 04:16:00 |
| DXC | DX de YV5EPM: 7165.0 YV4KW/1 mini expedition from Cabo San | 2014-01-03 23:32:00 |
| DXC | DX de YV5EPM: 14277.0 V5/DH3WO 5 up 2138Z | 2014-01-03 21:38:00 |
| DXC | DX de YV5EPM: 18145.0 A25WO simplex 2140Z | 2013-12-28 21:40:00 |
| DXC | DX de YV5EPM: 21275.0 A25WO easy ... simplex 2101Z | 2013-12-28 21:01:00 |
| DXC | DX de YV5EPM: 14195.0 CE9/UA4WHX 0114Z | 2013-12-24 01:14:00 |
| DXC | DX de YV5EPM: 14180.0 RI20ANT 0107Z | 2013-12-24 01:07:00 |
| DXC | DX de YV5EPM: 14225.0 7P8WO 5 up tnx 2313Z | 2013-12-22 23:13:00 |
| DXC | DX de YV5EPM: 7167.0 A4/W3JK up 7171 0138Z | 2013-12-21 01:38:00 |
| DXC | DX de YV5EPM: 14225.0 OF5X Santa Claus HQ 2117Z | 2013-12-19 21:17:00 |
| DXC | DX de YV5EPM: 7170.5 ZF2YL 59 + 40 db 0054Z | 2013-12-16 00:54:00 |
| DXC | DX de YV5EPM: 7115.0 EA9AA cq dx 0117Z | 2013-12-15 01:17:00 |
| DXC | DX de YV5EPM: 14091.0 TU5AX 2 up tnx 2144Z | 2013-11-29 21:44:00 |