Website is running in some kind of save mode. More information in
News section
. If you find something that does not work
let me know
, please.
F5SDD
Lookups: 1635
| Bureau | Direct | LoTW | eQSL
Name:
David (Dave)
QTH:
Marseille
Country:
France
Grid:
JN23QF
Web:
http://f5sdd.free.fr
Email:
f5sdd13@gmail.com
David Sanchez
15 Beauvallon centre
Marseille 13009
France
Licensed since:
1991
Born:
1970
ITU:
27
CQ:
14
Skype:
f5sdd_dave
#216
On Earth since 1970 ---> HAM Since 1991, married, 2 childrens.
I am employed to Marseille Metropole as an Electronics specialist traffic light system, also known as traffic signal, stop light, traffic lamp, stop-and-go lights, robot or semaphore.
I enjoy CW traffic, contest, and many more. My first QSO on moon was on 1996 during ARRL 432MHz EME with 8x26Elts DJ9BV and 600w. Team F5KDK, TM1O.
Expeditions:
August 15-18;2008 TM5F Frioul Archipelago(EU-095, ME-003)
August 25-27;2006 TM5F Frioul Archipelago(EU-095, ME-003)
May 25-28;2006 TM7NM Noirmoutier Island, (EU-064, AT-020)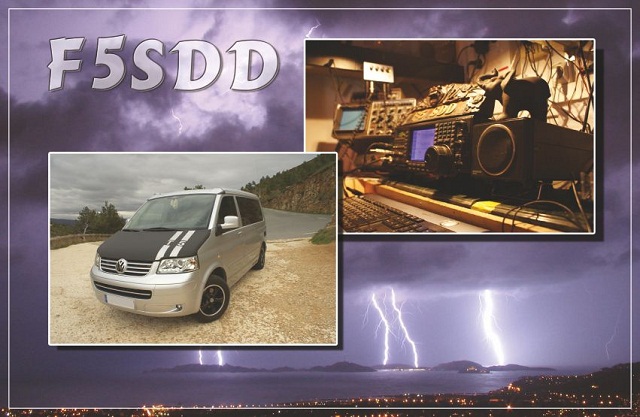 TRX : 10GHz FT817ND + TVTR F6BVA (10w) + 60cm dish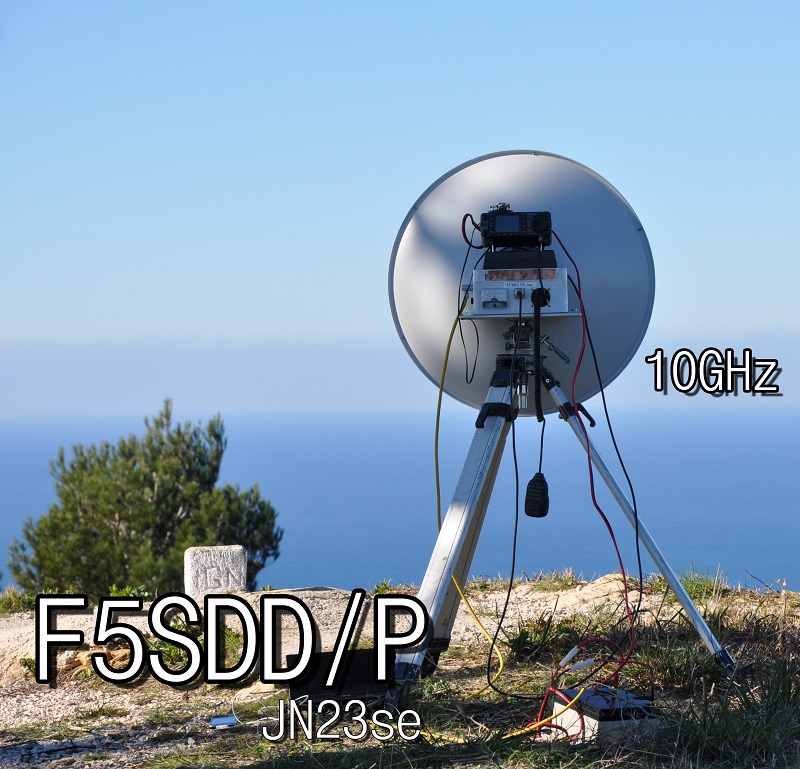 | Source | Activity | Date time |
| --- | --- | --- |
| DXC | DX de KD2ISV: 14076.2 F5SDD 1752Z | 2017-10-20 17:52:00 |
| RBN | DX de S50ARX-#: 21036.9 F5SDD CW 25 dB 24 WPM CQ 1438Z | 2017-10-15 14:38:19 |
| RBN | DX de W3UA-#: 21036.9 F5SDD CW 13 dB 23 WPM CQ 1438Z | 2017-10-15 14:38:16 |
| RBN | DX de HA1VHF-#: 21036.9 F5SDD CW 29 dB 24 WPM CQ 1438Z | 2017-10-15 14:38:15 |
| RBN | DX de HA6PX-#: 21036.9 F5SDD CW 7 dB 25 WPM CQ 1438Z | 2017-10-15 14:38:09 |
| RBN | DX de HA6PX-#: 21036.9 F5SDD CW 6 dB 24 WPM CQ 1438Z | 2017-10-15 14:38:09 |
| RBN | DX de HB9BXE-#: 18092.0 F5SDD CW 5 dB 30 WPM CQ 1337Z | 2017-10-15 13:37:21 |
| RBN | DX de RV3DBW-#: 18078.7 F5SDD CW 12 dB 29 WPM CQ 1316Z | 2017-10-15 13:16:48 |
| RBN | DX de GW8IZR-#: 18078.6 F5SDD CW 30 dB 29 WPM CQ 1316Z | 2017-10-15 13:16:43 |
| RBN | DX de HA1VHF-#: 18078.5 F5SDD CW 36 dB 29 WPM CQ 1316Z | 2017-10-15 13:16:42 |
| RBN | DX de DL8LAS-#: 18078.6 F5SDD CW 12 dB 28 WPM CQ 1316Z | 2017-10-15 13:16:42 |
| RBN | DX de W3LPL-#: 18078.5 F5SDD CW 34 dB 29 WPM CQ 1316Z | 2017-10-15 13:16:42 |
| RBN | DX de DL9GTB-#: 18078.6 F5SDD CW 12 dB 28 WPM CQ 1316Z | 2017-10-15 13:16:41 |
| RBN | DX de WZ7I-#: 18078.5 F5SDD CW 30 dB 28 WPM CQ 1316Z | 2017-10-15 13:16:40 |
| RBN | DX de EA5WU-#: 18078.5 F5SDD CW 42 dB 29 WPM CQ 1316Z | 2017-10-15 13:16:39 |
| RBN | DX de EI9KF-#: 18078.6 F5SDD CW 16 dB 29 WPM CQ 1316Z | 2017-10-15 13:16:39 |
| RBN | DX de 9A1CIG-#: 18078.70 F5SDD CW 32 dB 29 WPM CQ 1316Z | 2017-10-15 13:16:39 |
| RBN | DX de KM3T-#: 18078.5 F5SDD CW 9 dB 29 WPM CQ 1316Z | 2017-10-15 13:16:37 |
| RBN | DX de GI4DOH-#: 18078.5 F5SDD CW 16 dB 29 WPM CQ 1316Z | 2017-10-15 13:16:36 |
| RBN | DX de HA6PX-#: 18078.5 F5SDD CW 11 dB 28 WPM CQ 1316Z | 2017-10-15 13:16:36 |
| RBN | DX de DL1RNN-#: 18078.6 F5SDD CW 5 dB 29 WPM CQ 1316Z | 2017-10-15 13:16:30 |
| RBN | DX de W2AXR-#: 18078.5 F5SDD CW 13 dB 28 WPM CQ 1316Z | 2017-10-15 13:16:30 |
| RBN | DX de W3UA-#: 18078.5 F5SDD CW 27 dB 28 WPM CQ 1316Z | 2017-10-15 13:16:30 |
| RBN | DX de OE6TZE-#: 18078.6 F5SDD CW 22 dB 29 WPM CQ 1316Z | 2017-10-15 13:16:30 |
| RBN | DX de DL9GTB-#: 14019.1 F5SDD CW 36 dB 31 WPM CQ 0806Z | 2017-10-15 08:06:02 |
| RBN | DX de LZ7AA-#: 14017.3 F5SDD CW 18 dB 26 WPM CQ 0739Z | 2017-10-15 07:39:44 |
| RBN | DX de DO4DXA-#: 14023.8 F5SDD CW 18 dB 26 WPM CQ 1540Z | 2017-10-14 15:40:09 |
| RBN | DX de BA7JA-#: 14007.6 F5SDD CW 8 dB 25 WPM CQ 1512Z | 2017-10-14 15:12:37 |
| RBN | DX de S50ARX-#: 14007.6 F5SDD CW 20 dB 25 WPM CQ 1510Z | 2017-10-14 15:10:07 |
| RBN | DX de VU2PTT-#: 14007.5 F5SDD CW 11 dB 25 WPM CQ 1510Z | 2017-10-14 15:10:00 |
| RBN | DX de SV1CDN-#: 14007.7 F5SDD CW 20 dB 25 WPM CQ 1509Z | 2017-10-14 15:09:31 |
| RBN | DX de M0VSE-#: 14007.6 F5SDD CW 11 dB 25 WPM CQ 1509Z | 2017-10-14 15:09:17 |
| RBN | DX de W2AXR-#: 14007.5 F5SDD CW 7 dB 25 WPM CQ 1509Z | 2017-10-14 15:09:17 |
| RBN | DX de KM3T-#: 14007.5 F5SDD CW 16 dB 25 WPM CQ 1509Z | 2017-10-14 15:09:16 |
| RBN | DX de DL8LAS-#: 14007.6 F5SDD CW 6 dB 25 WPM CQ 1509Z | 2017-10-14 15:09:07 |
| RBN | DX de VE2WU-#: 14007.6 F5SDD CW 34 dB 25 WPM CQ 1509Z | 2017-10-14 15:09:04 |
| RBN | DX de GW8IZR-#: 14007.6 F5SDD CW 22 dB 25 WPM CQ 1508Z | 2017-10-14 15:08:47 |
| RBN | DX de UD4FD-#: 14007.60 F5SDD CW 23 dB 25 WPM CQ 1508Z | 2017-10-14 15:08:46 |
| RBN | DX de ON6ZQ-#: 14007.6 F5SDD CW 16 dB 25 WPM CQ 1508Z | 2017-10-14 15:08:46 |
| RBN | DX de EI9KF-#: 14007.6 F5SDD CW 25 dB 26 WPM CQ 1508Z | 2017-10-14 15:08:45 |
| RBN | DX de DL1RNN-#: 14007.6 F5SDD CW 11 dB 25 WPM CQ 1508Z | 2017-10-14 15:08:45 |
| RBN | DX de DJ9IE-#: 14007.6 F5SDD CW 41 dB 25 WPM CQ 1508Z | 2017-10-14 15:08:44 |
| RBN | DX de ES4O-#: 14007.6 F5SDD CW 20 dB 25 WPM CQ 1508Z | 2017-10-14 15:08:44 |
| RBN | DX de W1NT-#: 14007.5 F5SDD CW 26 dB 25 WPM CQ 1508Z | 2017-10-14 15:08:43 |
| RBN | DX de OH8WW-#: 14007.6 F5SDD CW 29 dB 25 WPM CQ 1508Z | 2017-10-14 15:08:43 |
| RBN | DX de SE0X-#: 14007.6 F5SDD CW 22 dB 25 WPM CQ 1508Z | 2017-10-14 15:08:42 |
| RBN | DX de WZ7I-#: 14007.6 F5SDD CW 35 dB 25 WPM CQ 1508Z | 2017-10-14 15:08:41 |
| RBN | DX de ES5PC-#: 14007.5 F5SDD CW 27 dB 25 WPM CQ 1508Z | 2017-10-14 15:08:41 |
| RBN | DX de TF3Y-#: 14007.6 F5SDD CW 25 dB 26 WPM CQ 1508Z | 2017-10-14 15:08:41 |
| RBN | DX de SJ2W-#: 14007.6 F5SDD CW 16 dB 25 WPM CQ 1508Z | 2017-10-14 15:08:41 |
| RBN | DX de SE5E-#: 14007.6 F5SDD CW 25 dB 26 WPM CQ 1508Z | 2017-10-14 15:08:40 |
| RBN | DX de K1TTT-#: 14007.6 F5SDD CW 12 dB 25 WPM CQ 1508Z | 2017-10-14 15:08:40 |
| RBN | DX de EA5WU-#: 14007.6 F5SDD CW 29 dB 25 WPM CQ 1508Z | 2017-10-14 15:08:39 |
| RBN | DX de SK3W-#: 14007.6 F5SDD CW 32 dB 25 WPM CQ 1508Z | 2017-10-14 15:08:38 |
| RBN | DX de W4KKN-#: 14007.6 F5SDD CW 29 dB 25 WPM CQ 1508Z | 2017-10-14 15:08:36 |
| RBN | DX de LZ4UX-#: 14007.6 F5SDD CW 4 dB 25 WPM CQ 1508Z | 2017-10-14 15:08:36 |
| RBN | DX de N4ZR/3-#: 14007.6 F5SDD CW 10 dB 25 WPM CQ 1508Z | 2017-10-14 15:08:36 |
| RBN | DX de AA4VV-#: 14007.6 F5SDD CW 11 dB 25 WPM CQ 1508Z | 2017-10-14 15:08:35 |
| RBN | DX de W3UA-#: 14007.6 F5SDD CW 28 dB 26 WPM CQ 1508Z | 2017-10-14 15:08:34 |
| DXC | DX de W4IMD: 14074.0 F5SDD 1538Z | 2017-10-13 15:38:00 |
| RBN | DX de VE2WU-#: 14036.7 F5SDD CW 34 dB 23 WPM CQ 1515Z | 2017-10-13 15:15:35 |
| RBN | DX de LA6TPA-#: 14036.8 F5SDD CW 20 dB 27 WPM CQ 1514Z | 2017-10-13 15:14:58 |
| RBN | DX de S50ARX-#: 14036.7 F5SDD CW 13 dB 27 WPM CQ 1514Z | 2017-10-13 15:14:54 |
| RBN | DX de WE9V-#: 14036.7 F5SDD CW 10 dB 27 WPM CQ 1514Z | 2017-10-13 15:14:29 |
| RBN | DX de KM3T-#: 14036.7 F5SDD CW 20 dB 27 WPM CQ 1514Z | 2017-10-13 15:14:07 |
| RBN | DX de EI7HQB-#: 14036.8 F5SDD CW 34 dB 27 WPM CQ 1514Z | 2017-10-13 15:14:05 |
| RBN | DX de 3B8CW-#: 14036.7 F5SDD CW 14 dB 27 WPM CQ 1514Z | 2017-10-13 15:14:05 |
| RBN | DX de SM6FMB-#: 14036.9 F5SDD CW 46 dB 29 WPM CQ 1514Z | 2017-10-13 15:14:03 |
| RBN | DX de SV1CDN-#: 14036.8 F5SDD CW 10 dB 27 WPM CQ 1514Z | 2017-10-13 15:14:01 |
| RBN | DX de OH6BG-#: 14036.8 F5SDD CW 30 dB 26 WPM CQ 1513Z | 2017-10-13 15:13:59 |
| RBN | DX de W8WTS-#: 14036.7 F5SDD CW 8 dB 27 WPM CQ 1513Z | 2017-10-13 15:13:54 |
| RBN | DX de W4KKN-#: 14036.8 F5SDD CW 24 dB 27 WPM CQ 1513Z | 2017-10-13 15:13:54 |
| RBN | DX de WZ7I-#: 14036.7 F5SDD CW 39 dB 29 WPM CQ 1513Z | 2017-10-13 15:13:53 |
| RBN | DX de W3LPL-#: 14036.7 F5SDD CW 33 dB 28 WPM CQ 1513Z | 2017-10-13 15:13:53 |
| RBN | DX de VK4CT-#: 14036.7 F5SDD CW 19 dB 27 WPM CQ 1513Z | 2017-10-13 15:13:53 |
| RBN | DX de ES5PC-#: 14036.7 F5SDD CW 33 dB 28 WPM CQ 1513Z | 2017-10-13 15:13:52 |
| RBN | DX de N4ZR/3-#: 14036.7 F5SDD CW 22 dB 28 WPM CQ 1513Z | 2017-10-13 15:13:52 |
| RBN | DX de W3UA-#: 14036.7 F5SDD CW 33 dB 27 WPM CQ 1513Z | 2017-10-13 15:13:52 |
| RBN | DX de SV8RV-#: 14036.7 F5SDD CW 12 dB 27 WPM CQ 1513Z | 2017-10-13 15:13:50 |
| RBN | DX de W2AXR-#: 14036.7 F5SDD CW 16 dB 27 WPM CQ 1513Z | 2017-10-13 15:13:50 |
| RBN | DX de SE5E-#: 14036.7 F5SDD CW 38 dB 29 WPM CQ 1513Z | 2017-10-13 15:13:48 |
| RBN | DX de EI9KF-#: 14036.8 F5SDD CW 29 dB 28 WPM CQ 1513Z | 2017-10-13 15:13:48 |
| RBN | DX de F5RRS-#: 14036.9 F5SDD CW 12 dB 27 WPM CQ 1513Z | 2017-10-13 15:13:48 |
| RBN | DX de UA6SWL-#: 14036.7 F5SDD CW 9 dB 26 WPM CQ 1513Z | 2017-10-13 15:13:48 |
| RBN | DX de UT4U-#: 14036.8 F5SDD CW 19 dB 27 WPM CQ 1513Z | 2017-10-13 15:13:48 |
| RBN | DX de ES4O-#: 14036.7 F5SDD CW 27 dB 28 WPM CQ 1513Z | 2017-10-13 15:13:48 |
| RBN | DX de G0LUJ-#: 14036.8 F5SDD CW 17 dB 27 WPM CQ 1513Z | 2017-10-13 15:13:47 |
| RBN | DX de HA6PX-#: 14036.7 F5SDD CW 40 dB 28 WPM CQ 1513Z | 2017-10-13 15:13:46 |
| RBN | DX de OH8WW-#: 14036.8 F5SDD CW 40 dB 29 WPM CQ 1513Z | 2017-10-13 15:13:46 |
| RBN | DX de AA4VV-#: 14036.7 F5SDD CW 19 dB 28 WPM CQ 1513Z | 2017-10-13 15:13:45 |
| RBN | DX de DJ9IE-#: 14036.7 F5SDD CW 14 dB 27 WPM CQ 1513Z | 2017-10-13 15:13:45 |
| RBN | DX de K1TTT-#: 14036.7 F5SDD CW 26 dB 27 WPM CQ 1513Z | 2017-10-13 15:13:43 |
| RBN | DX de SJ2W-#: 14036.8 F5SDD CW 18 dB 28 WPM CQ 1513Z | 2017-10-13 15:13:43 |
| RBN | DX de LZ7AA-#: 14036.7 F5SDD CW 27 dB 28 WPM CQ 1513Z | 2017-10-13 15:13:42 |
| RBN | DX de SE0X-#: 14036.8 F5SDD CW 43 dB 29 WPM CQ 1513Z | 2017-10-13 15:13:42 |
| RBN | DX de TF3Y-#: 14036.7 F5SDD CW 23 dB 27 WPM CQ 1513Z | 2017-10-13 15:13:42 |
| RBN | DX de GW8IZR-#: 14036.7 F5SDD CW 40 dB 29 WPM CQ 1513Z | 2017-10-13 15:13:41 |
| RBN | DX de GI4DOH-#: 14036.7 F5SDD CW 43 dB 29 WPM CQ 1513Z | 2017-10-13 15:13:40 |
| RBN | DX de VK4CT-#: 14038.0 F5SDD CW 17 dB 29 WPM CQ 1513Z | 2017-10-13 15:13:08 |
| RBN | DX de DL9GTB-#: 14027.3 F5SDD CW 26 dB 23 WPM CQ 1648Z | 2017-10-12 16:48:55 |
| RBN | DX de WE9V-#: 14027.3 F5SDD CW 10 dB 23 WPM CQ 1648Z | 2017-10-12 16:48:49 |
| RBN | DX de G0LUJ-#: 14027.4 F5SDD CW 13 dB 23 WPM CQ 1648Z | 2017-10-12 16:48:43 |
| RBN | DX de W3UA-#: 14027.3 F5SDD CW 30 dB 27 WPM CQ 1648Z | 2017-10-12 16:48:42 |
| RBN | DX de G0LUJ-#: 14027.4 F5SDD CW 12 dB 28 WPM CQ 1648Z | 2017-10-12 16:48:42 |
| RBN | DX de GW8IZR-#: 14027.4 F5SDD CW 27 dB 27 WPM CQ 1648Z | 2017-10-12 16:48:41 |
| RBN | DX de DL9GTB-#: 14027.3 F5SDD CW 25 dB 27 WPM CQ 1648Z | 2017-10-12 16:48:40 |
| RBN | DX de W1NT-#: 14027.3 F5SDD CW 37 dB 27 WPM CQ 1648Z | 2017-10-12 16:48:38 |
| RBN | DX de DL8LAS-#: 14027.3 F5SDD CW 18 dB 27 WPM CQ 1648Z | 2017-10-12 16:48:38 |
| RBN | DX de EI9KF-#: 14027.4 F5SDD CW 16 dB 27 WPM CQ 1648Z | 2017-10-12 16:48:38 |
| RBN | DX de W2AXR-#: 14027.3 F5SDD CW 10 dB 26 WPM CQ 1648Z | 2017-10-12 16:48:37 |
| RBN | DX de PC5Q-#: 14027.3 F5SDD CW 15 dB 27 WPM CQ 1648Z | 2017-10-12 16:48:37 |
| RBN | DX de WZ7I-#: 14027.3 F5SDD CW 37 dB 28 WPM CQ 1648Z | 2017-10-12 16:48:35 |
| RBN | DX de GI4DOH-#: 14027.3 F5SDD CW 26 dB 27 WPM CQ 1648Z | 2017-10-12 16:48:35 |
| RBN | DX de SV8RV-#: 14027.3 F5SDD CW 22 dB 27 WPM CQ 1648Z | 2017-10-12 16:48:34 |
| RBN | DX de DJ9IE-#: 14027.3 F5SDD CW 27 dB 27 WPM CQ 1648Z | 2017-10-12 16:48:34 |
| RBN | DX de SM6FMB-#: 14027.5 F5SDD CW 26 dB 27 WPM CQ 1648Z | 2017-10-12 16:48:33 |
| RBN | DX de K1TTT-#: 14027.3 F5SDD CW 22 dB 28 WPM CQ 1648Z | 2017-10-12 16:48:32 |
| RBN | DX de KM3T-#: 14027.3 F5SDD CW 21 dB 27 WPM CQ 1648Z | 2017-10-12 16:48:31 |
| RBN | DX de DK9IP-#: 14027.4 F5SDD CW 20 dB 27 WPM CQ 1648Z | 2017-10-12 16:48:29 |
| RBN | DX de TF3Y-#: 14027.3 F5SDD CW 21 dB 27 WPM CQ 1648Z | 2017-10-12 16:48:28 |
| RBN | DX de SM6FMB-#: 14013.1 F5SDD CW 12 dB 25 WPM CQ 0535Z | 2017-10-12 05:35:34 |
| RBN | DX de UD4FD-#: 14013.00 F5SDD CW 14 dB 30 WPM CQ 0535Z | 2017-10-12 05:35:31 |
| RBN | DX de SE5E-#: 14013.0 F5SDD CW 3 dB 28 WPM CQ 0535Z | 2017-10-12 05:35:14 |
| DXC | DX de YV4DHS: 14074.0 F5SDD FT8 1750Z | 2017-10-11 17:50:00 |
| RBN | DX de F5HPY-#: 14022.2 F5SDD CW 18 dB 26 WPM CQ 0946Z | 2017-10-11 09:46:42 |
| RBN | DX de EA5WU-#: 14022.2 F5SDD CW 29 dB 26 WPM CQ 0946Z | 2017-10-11 09:46:41 |
| RBN | DX de M0VSE-#: 14022.2 F5SDD CW 11 dB 26 WPM CQ 0946Z | 2017-10-11 09:46:36 |
| RBN | DX de 9A1CIG-#: 14022.30 F5SDD CW 22 dB 26 WPM CQ 0946Z | 2017-10-11 09:46:34 |
| RBN | DX de S50ARX-#: 14022.2 F5SDD CW 42 dB 26 WPM CQ 0946Z | 2017-10-11 09:46:33 |
| RBN | DX de SV1CDN-#: 14022.3 F5SDD CW 16 dB 26 WPM CQ 0946Z | 2017-10-11 09:46:32 |
| RBN | DX de UD4FD-#: 14022.20 F5SDD CW 16 dB 27 WPM CQ 0946Z | 2017-10-11 09:46:16 |
| RBN | DX de DL9GTB-#: 14022.2 F5SDD CW 26 dB 26 WPM CQ 0946Z | 2017-10-11 09:46:16 |
| RBN | DX de DL1RNN-#: 14022.2 F5SDD CW 33 dB 27 WPM CQ 0944Z | 2017-10-11 09:44:49 |
| RBN | DX de EI7HQB-#: 14022.3 F5SDD CW 24 dB 26 WPM CQ 0944Z | 2017-10-11 09:44:49 |
| RBN | DX de SK3W-#: 14022.1 F5SDD CW 35 dB 28 WPM CQ 0944Z | 2017-10-11 09:44:42 |
| RBN | DX de HA6PX-#: 14022.2 F5SDD CW 32 dB 27 WPM CQ 0944Z | 2017-10-11 09:44:42 |
| RBN | DX de SE0X-#: 14022.2 F5SDD CW 22 dB 27 WPM CQ 0944Z | 2017-10-11 09:44:41 |
| RBN | DX de OL7M-#: 14022.2 F5SDD CW 30 dB 27 WPM CQ 0944Z | 2017-10-11 09:44:39 |
| RBN | DX de LZ7AA-#: 14022.2 F5SDD CW 26 dB 27 WPM CQ 0944Z | 2017-10-11 09:44:38 |
| RBN | DX de DL8LAS-#: 14022.2 F5SDD CW 30 dB 27 WPM CQ 0944Z | 2017-10-11 09:44:37 |
| RBN | DX de GI4DOH-#: 14022.2 F5SDD CW 31 dB 27 WPM CQ 0944Z | 2017-10-11 09:44:36 |
| RBN | DX de SJ2W-#: 14022.2 F5SDD CW 24 dB 26 WPM CQ 0944Z | 2017-10-11 09:44:35 |
| RBN | DX de SV8RV-#: 14022.2 F5SDD CW 11 dB 27 WPM CQ 0944Z | 2017-10-11 09:44:34 |
| RBN | DX de DF4XX-#: 14022.2 F5SDD CW 11 dB 27 WPM CQ 0944Z | 2017-10-11 09:44:33 |
| RBN | DX de OH6BG-#: 14022.2 F5SDD CW 29 dB 27 WPM CQ 0944Z | 2017-10-11 09:44:33 |
| RBN | DX de HA1VHF-#: 14022.2 F5SDD CW 27 dB 28 WPM CQ 0944Z | 2017-10-11 09:44:33 |
| RBN | DX de OH8WW-#: 14022.2 F5SDD CW 26 dB 26 WPM CQ 0944Z | 2017-10-11 09:44:31 |
| RBN | DX de ES5PC-#: 14022.1 F5SDD CW 31 dB 27 WPM CQ 0944Z | 2017-10-11 09:44:30 |
| RBN | DX de SE5E-#: 14022.2 F5SDD CW 27 dB 27 WPM CQ 0944Z | 2017-10-11 09:44:30 |
| RBN | DX de DJ1RK-#: 14022.2 F5SDD CW 6 dB 27 WPM CQ 0944Z | 2017-10-11 09:44:30 |
| RBN | DX de EI9KF-#: 14022.2 F5SDD CW 18 dB 27 WPM CQ 0944Z | 2017-10-11 09:44:28 |
| RBN | DX de W3UA-#: 18070.4 F5SDD CW 21 dB 30 WPM CQ 1900Z | 2017-10-05 19:01:00 |
| RBN | DX de DO4DXA-#: 18070.5 F5SDD CW 12 dB 29 WPM CQ 1900Z | 2017-10-05 19:00:55 |
| RBN | DX de WZ7I-#: 18070.4 F5SDD CW 28 dB 30 WPM CQ 1900Z | 2017-10-05 19:00:54 |
| RBN | DX de WZ7I-#: 18110.0 F5SDD RTTY 33 dB 45 BPS CQ 1509Z | 2017-10-03 15:09:25 |
| RBN | DX de W3LPL-#: 18109.9 F5SDD RTTY 18 dB 45 BPS CQ 1509Z | 2017-10-03 15:09:17 |
| RBN | DX de W3UA-#: 18078.4 F5SDD CW 24 dB 26 WPM CQ 1607Z | 2017-10-02 16:07:21 |
| RBN | DX de LA6TPA-#: 18078.4 F5SDD CW 14 dB 27 WPM CQ 1607Z | 2017-10-02 16:07:18 |
| RBN | DX de KM3T-#: 18078.4 F5SDD CW 16 dB 27 WPM CQ 1607Z | 2017-10-02 16:07:16 |
| RBN | DX de K9IMM-#: 18078.4 F5SDD CW 7 dB 27 WPM CQ 1607Z | 2017-10-02 16:07:10 |
| RBN | DX de OH6BG-#: 18078.5 F5SDD CW 34 dB 28 WPM CQ 1607Z | 2017-10-02 16:07:03 |
| RBN | DX de AA4VV-#: 18078.4 F5SDD CW 9 dB 27 WPM CQ 1607Z | 2017-10-02 16:07:03 |
| RBN | DX de OH8WW-#: 18078.4 F5SDD CW 33 dB 28 WPM CQ 1607Z | 2017-10-02 16:07:03 |
| RBN | DX de W2AXR-#: 18078.3 F5SDD CW 18 dB 27 WPM CQ 1607Z | 2017-10-02 16:07:01 |
| RBN | DX de TF3Y-#: 18078.4 F5SDD CW 12 dB 27 WPM CQ 1606Z | 2017-10-02 16:06:59 |
| RBN | DX de SV8RV-#: 18078.4 F5SDD CW 13 dB 27 WPM CQ 1606Z | 2017-10-02 16:06:57 |
| RBN | DX de WZ7I-#: 18078.4 F5SDD CW 34 dB 27 WPM CQ 1606Z | 2017-10-02 16:06:55 |
| RBN | DX de W3LPL-#: 18078.3 F5SDD CW 9 dB 27 WPM CQ 1606Z | 2017-10-02 16:06:52 |
| RBN | DX de GW8IZR-#: 18078.4 F5SDD CW 23 dB 27 WPM CQ 1606Z | 2017-10-02 16:06:51 |
| RBN | DX de EI9KF-#: 18078.4 F5SDD CW 9 dB 27 WPM CQ 1606Z | 2017-10-02 16:06:50 |
| RBN | DX de DL9GTB-#: 14035.0 F5SDD CW 18 dB 24 WPM CQ 1536Z | 2017-10-02 15:36:32 |
| RBN | DX de DL8LAS-#: 14035.0 F5SDD CW 27 dB 27 WPM CQ 1536Z | 2017-10-02 15:36:31 |
| RBN | DX de OL7M-#: 14035.1 F5SDD CW 10 dB 26 WPM CQ 1536Z | 2017-10-02 15:36:31 |
| RBN | DX de ES5PC-#: 14034.9 F5SDD CW 31 dB 28 WPM CQ 1536Z | 2017-10-02 15:36:30 |
| RBN | DX de M0VSE-#: 14035.0 F5SDD CW 19 dB 26 WPM CQ 1536Z | 2017-10-02 15:36:29 |
| RBN | DX de SV8RV-#: 14035.0 F5SDD CW 21 dB 26 WPM CQ 1536Z | 2017-10-02 15:36:27 |
| RBN | DX de SE0X-#: 14035.0 F5SDD CW 29 dB 27 WPM CQ 1536Z | 2017-10-02 15:36:27 |
| RBN | DX de UD4FD-#: 14035.00 F5SDD CW 34 dB 28 WPM CQ 1536Z | 2017-10-02 15:36:27 |
| RBN | DX de G0LUJ-#: 14035.1 F5SDD CW 20 dB 26 WPM CQ 1536Z | 2017-10-02 15:36:22 |
| RBN | DX de GW8IZR-#: 14035.0 F5SDD CW 38 dB 28 WPM CQ 1536Z | 2017-10-02 15:36:21 |
| RBN | DX de EI9KF-#: 14035.0 F5SDD CW 15 dB 27 WPM CQ 1536Z | 2017-10-02 15:36:19 |
| RBN | DX de OH8WW-#: 14035.0 F5SDD CW 25 dB 27 WPM CQ 1536Z | 2017-10-02 15:36:18 |
| RBN | DX de OH6BG-#: 14035.1 F5SDD CW 43 dB 29 WPM CQ 1536Z | 2017-10-02 15:36:17 |
| RBN | DX de SE5E-#: 14035.0 F5SDD CW 31 dB 26 WPM CQ 1536Z | 2017-10-02 15:36:17 |
| RBN | DX de SV8RV-#: 14036.3 F5SDD CW 14 dB 27 WPM CQ 1531Z | 2017-10-02 15:31:42 |
| RBN | DX de UD4FD-#: 14036.30 F5SDD CW 34 dB 27 WPM CQ 1531Z | 2017-10-02 15:31:41 |
| RBN | DX de WZ7I-#: 14036.3 F5SDD CW 28 dB 27 WPM CQ 1531Z | 2017-10-02 15:31:40 |
| RBN | DX de K1TTT-#: 14036.3 F5SDD CW 13 dB 26 WPM CQ 1531Z | 2017-10-02 15:31:38 |
| RBN | DX de G0LUJ-#: 14036.4 F5SDD CW 22 dB 26 WPM CQ 1531Z | 2017-10-02 15:31:37 |
| RBN | DX de HA6PX-#: 14036.3 F5SDD CW 30 dB 27 WPM CQ 1531Z | 2017-10-02 15:31:37 |
| RBN | DX de 3B8CW-#: 14036.3 F5SDD CW 11 dB 26 WPM CQ 1531Z | 2017-10-02 15:31:36 |
| RBN | DX de W3LPL-#: 14036.3 F5SDD CW 20 dB 27 WPM CQ 1531Z | 2017-10-02 15:31:36 |
| RBN | DX de GW8IZR-#: 14036.3 F5SDD CW 43 dB 28 WPM CQ 1531Z | 2017-10-02 15:31:36 |
| RBN | DX de W3UA-#: 14036.3 F5SDD CW 23 dB 27 WPM CQ 1531Z | 2017-10-02 15:31:35 |
| RBN | DX de EI9KF-#: 14036.3 F5SDD CW 18 dB 26 WPM CQ 1531Z | 2017-10-02 15:31:34 |
| RBN | DX de OH8WW-#: 14036.3 F5SDD CW 28 dB 27 WPM CQ 1531Z | 2017-10-02 15:31:33 |
| RBN | DX de DL9GTB-#: 14036.3 F5SDD CW 31 dB 27 WPM CQ 1531Z | 2017-10-02 15:31:32 |
| RBN | DX de OH6BG-#: 14036.4 F5SDD CW 36 dB 28 WPM CQ 1531Z | 2017-10-02 15:31:32 |
| RBN | DX de SE5E-#: 14036.3 F5SDD CW 31 dB 27 WPM CQ 1531Z | 2017-10-02 15:31:32 |
| RBN | DX de DL8LAS-#: 14036.3 F5SDD CW 36 dB 27 WPM CQ 1531Z | 2017-10-02 15:31:31 |