Website is running in some kind of save mode. More information in
News section
. If you find something that does not work
let me know
, please.
EC1DJ
Lookups: 9681
| Bureau | Direct | LoTW | eQSL
Name:
Miguel "MrDJ"
QTH:
Vilagarcia de Arousa
Country:
Spain
Grid:
IN52OO
Web:
http://ec1dj.tk
Email:
ec1dj@ure.es
Miguel Ángel
Pide mi dirección por e-Mail
Request Adress by e-Mail
Vilagarcia de Arousa 36600
Spain
ITU:
37
CQ:
14
Jabber:
ec1dj@ure.es
QSL via:
BURO - DIRECT - eQSL - LOTW
GRACIAS POR LA VISITA - THANKS FOR YOUR VISIT
Muchos colegas, extrañados de que no aparezca en QRZ.COM, me preguntan si mi indicativo es correcto... como si dudaran de que poseo un indicativo oficial.
Hace mucho que eliminé mis datos de QRZ.COM ante su prepotencia y por su forma de hacer negocio con los datos personales de los demás, incluyendo el pago de una tasa para poder visitar su propia información cuando se superan las 100 peticiones a la hora de visitar datos que no les pertenecen más que a sus propios dueños.
Lee: NO ME BUSQUES MÁS EN QRZ.COM
A diferencia de QRZ.COM, HAMQTH realiza un trabajo desinteresado y no cobra a los usuarios absolutamente nada, ni siquiera por utilizar el archivo XML, por el que QRZ.COM se lucra. Para mí, ese es el verdadero HAM SPIRIT.
La única garantía de autenticidad en los indicativos de Radioaficionados son nuestras licencias.
(English)
Many colleagues ask me why I´m not appear in QRZ.COM, and they think if maybe my callsign is not correct ... as if they doubted that I have an official callsing.

Many time ago I did deleted my QRZ.COM data. They are arrogance and only are doing business with the personal data of others, including the payment of a fee to be able to visit the own information when exceed 100 requests...

Unlike QRZ.COM, HAMQTH does a disinterested job and does not charge users anything at all, not even for using the XML file, for which QRZ.COM profits. For me, that's the real HAM SPIRIT.

The only guarantee of authenticity in the calls of Radio amateurs are our licenses.
Aquí está la mía / here is my license:
La misma licencia que ha sido comprobada por LOTW y eQSL
This is the same license has been check for LOTW and eQSL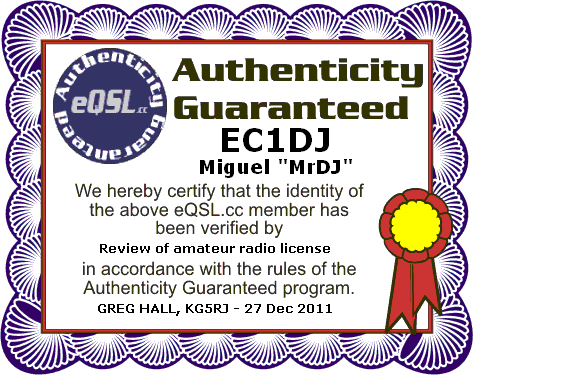 POLITICA DE QSL:
Sólo se confirmará UNA QSL POR BANDA Y MODO
Se contestarán por la misma vía en la que sean recibidas.
Preferiblemente BURO.
Las DIRECTAS sin sobre y SELLO, NO SERÁN CONTESTADAS.
NO ENVÍES DINERO.
QSL POLICY:
ONLY ONE QSL PER BAND AND MODE will be confirmed
All Cards will be sent at same way will be received, BUREAU is preffered.
DIRECT QSL´s received without Self Adressed Stamp Enveloped, or IRC
WILL NOT BE ANSWERED. DO NOT SEND MONEY.
CLUB LOG EC1DJ
Un regalo para ti - A gift for you...
Mi página sobre música en Facebook (déjame un "Me Gusta") - My music Facebook page (let me a "Like")
Fondos de pantalla exclusivos - Exclusive wallpapers
Pincha en la imagen - Click on the picture
Música y Radioafición - (Youtube Playlist) - Ham Radio & Music
Pincha en la imagen - Click on the picture
Algúnos vídeos:
Tributo a las Expediciones DX a África, la última frontera
A tribute to the DX Expeditions to Africa, the last frontier.
Presencia española por primera vez en el campamento YOTA (Finlandia 2014, líder EC1DJ)
Spain on the summer YOTA camp for first time (Finland 2014, EC1DJ team leader)
Mi actual sistema radiante vertical CB + CG3000 (acoplador remoto)
My current antenna sistem vertical CB + CG3000 (remote matcher)
Mi modesto cuarto de radio
My little radio shack
Hay más en mi canal de Youtube, si quieres, puedes suscribirte pinchando en la imagen
There are a lot much on my Youtube channel, you can subscribe by clicking on the banner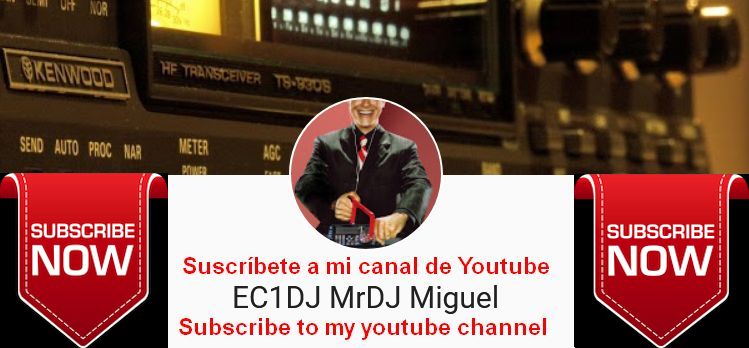 Además, si estoy en radio ahora mismo, es posible que esté emitiendo en streaming desde aquí:
Also, if I´m on the air, it´s possible I´m streaming from here:
Mis QSL´s en papel. Mi paper QSL´s: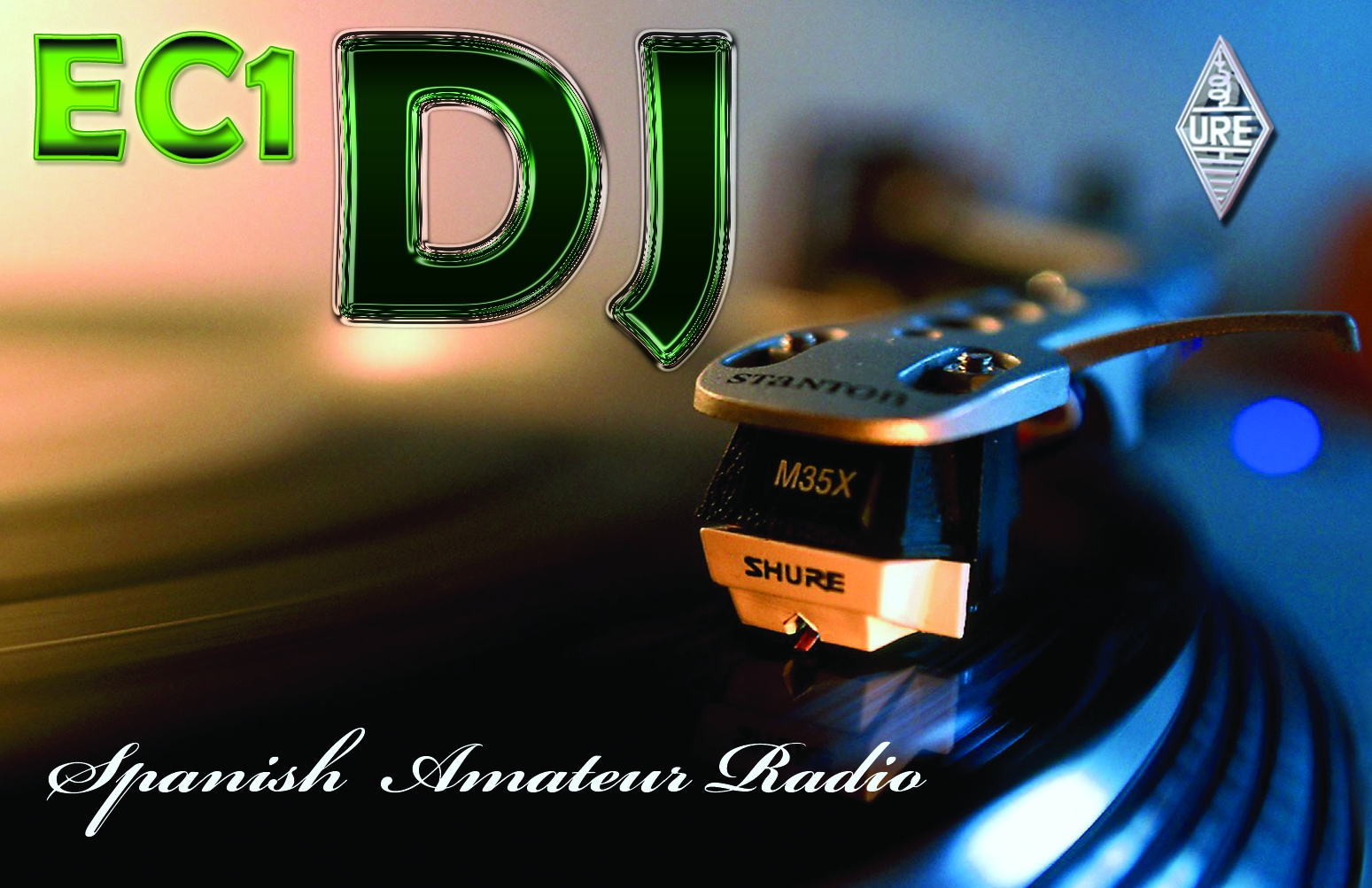 Mi equipo BASE / My BASE station:
RX-TX Kenwood TS-480-SAT (Para DIGITALES / For DIGITALS)
Kenwood TS-930-S (Para FONIA / For Phone)
Yaesu FT101-ZD (Para FONIA / For Phone)
Antenas -Antennas:
Multiband Watson PB100 portable.
Multiband. CB Vertical + "CG3000" remote.
Micros:
-Monacor BH-006 (handset)
-Shure SV-100
-Electrect (Tarjeta de sonido - PC - Sound Card) PC AMD 1100 Mhz @ 340 RAM
Soft: UR5EQF Log
Digi:
Interface "CHISME" autoconstruído (Home made)
Más info en mi web / More info on my web:
También estoy en Facebook - I´m also on Facebook
Una página con memes sobre Radioafición, entra y échate unas risas!
Te invito a conocer mi posdcast sobre Radioafición en IVOOX: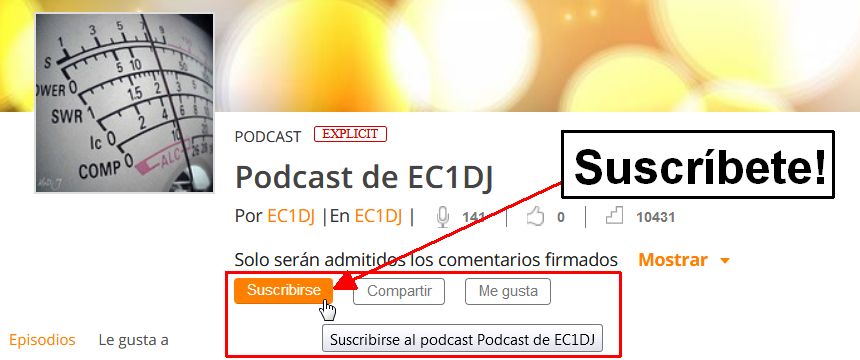 Have a special QSL so funny, or how awesome it is? Tweet this group!
¿Tienes una QSL especial por lo graciosa, o lo impresionante que es?, compártelo en este grupo!
Pincha la foto - Click on the picture
| Source | Activity | Date time |
| --- | --- | --- |
| RBN | DX de S50ARX-#: 14083.0 EC1DJ RTTY 14 dB 45 BPS CQ 1300Z | 2017-10-20 13:00:51 |
| RBN | DX de WZ7I-#: 14083.0 EC1DJ RTTY 22 dB 45 BPS CQ 1300Z | 2017-10-20 13:00:37 |
| RBN | DX de F5RRS-#: 14083.2 EC1DJ RTTY 18 dB 45 BPS CQ 1300Z | 2017-10-20 13:00:24 |
| RBN | DX de I2DMI-#: 14083.1 EC1DJ RTTY 30 dB 45 BPS CQ 1300Z | 2017-10-20 13:00:21 |
| RBN | DX de GI4DOH-#: 14083.0 EC1DJ RTTY 30 dB 45 BPS CQ 1300Z | 2017-10-20 13:00:17 |
| RBN | DX de OL7M-#: 14083.1 EC1DJ RTTY 30 dB 45 BPS CQ 1300Z | 2017-10-20 13:00:17 |
| RBN | DX de W3LPL-#: 14082.9 EC1DJ RTTY 17 dB 45 BPS CQ 1300Z | 2017-10-20 13:00:06 |
| RBN | DX de SM6FMB-#: 14083.2 EC1DJ RTTY 10 dB 45 BPS CQ 1257Z | 2017-10-20 12:57:38 |
| RBN | DX de LZ7AA-#: 14083.0 EC1DJ RTTY 22 dB 45 BPS CQ 1256Z | 2017-10-20 12:56:05 |
| RBN | DX de KM3T-2-#: 14082.9 EC1DJ RTTY 15 dB 45 BPS CQ 1255Z | 2017-10-20 12:55:06 |
| RBN | DX de KM3T-#: 14082.98 EC1DJ RTTY 16 dB 45 BPS CQ 1254Z | 2017-10-20 12:54:21 |
| RBN | DX de K1TTT-#: 14083.0 EC1DJ RTTY 7 dB 45 BPS CQ 1252Z | 2017-10-20 12:52:13 |
| RBN | DX de LA6TPA-#: 14083.0 EC1DJ RTTY 13 dB 45 BPS CQ 1251Z | 2017-10-20 12:51:29 |
| RBN | DX de GI4DOH-#: 14083.0 EC1DJ RTTY 24 dB 45 BPS CQ 1250Z | 2017-10-20 12:50:58 |
| RBN | DX de S50ARX-#: 14083.0 EC1DJ RTTY 16 dB 45 BPS CQ 1250Z | 2017-10-20 12:50:51 |
| RBN | DX de WZ7I-#: 14083.0 EC1DJ RTTY 23 dB 45 BPS CQ 1250Z | 2017-10-20 12:50:37 |
| RBN | DX de EA5WU-#: 14083.0 EC1DJ RTTY 15 dB 45 BPS CQ 1250Z | 2017-10-20 12:50:34 |
| RBN | DX de I2DMI-#: 14083.1 EC1DJ RTTY 27 dB 45 BPS CQ 1250Z | 2017-10-20 12:50:20 |
| RBN | DX de OL7M-#: 14083.1 EC1DJ RTTY 29 dB 45 BPS CQ 1250Z | 2017-10-20 12:50:17 |
| RBN | DX de F5RRS-#: 14083.2 EC1DJ RTTY 33 dB 45 BPS CQ 1250Z | 2017-10-20 12:50:08 |
| RBN | DX de W3LPL-#: 14082.9 EC1DJ RTTY 17 dB 45 BPS CQ 1250Z | 2017-10-20 12:50:05 |
| RBN | DX de LZ7AA-#: 14083.0 EC1DJ RTTY 23 dB 45 BPS CQ 1246Z | 2017-10-20 12:46:04 |
| RBN | DX de KM3T-2-#: 14082.9 EC1DJ RTTY 11 dB 45 BPS CQ 1245Z | 2017-10-20 12:45:05 |
| RBN | DX de KM3T-#: 14082.98 EC1DJ RTTY 11 dB 45 BPS CQ 1244Z | 2017-10-20 12:44:05 |
| RBN | DX de SM6FMB-#: 14083.2 EC1DJ RTTY 11 dB 45 BPS CQ 1242Z | 2017-10-20 12:42:38 |
| RBN | DX de LA6TPA-#: 14083.0 EC1DJ RTTY 8 dB 45 BPS CQ 1241Z | 2017-10-20 12:41:14 |
| RBN | DX de S50ARX-#: 14083.0 EC1DJ RTTY 17 dB 45 BPS CQ 1240Z | 2017-10-20 12:40:36 |
| RBN | DX de WZ7I-#: 14083.0 EC1DJ RTTY 22 dB 45 BPS CQ 1240Z | 2017-10-20 12:40:22 |
| RBN | DX de I2DMI-#: 14083.1 EC1DJ RTTY 32 dB 45 BPS CQ 1240Z | 2017-10-20 12:40:20 |
| RBN | DX de EA5WU-#: 14083.0 EC1DJ RTTY 20 dB 45 BPS CQ 1240Z | 2017-10-20 12:40:19 |
| RBN | DX de F5RRS-#: 14083.2 EC1DJ RTTY 32 dB 45 BPS CQ 1240Z | 2017-10-20 12:40:08 |
| RBN | DX de OL7M-#: 14083.1 EC1DJ RTTY 26 dB 45 BPS CQ 1240Z | 2017-10-20 12:40:02 |
| RBN | DX de GI4DOH-#: 14083.0 EC1DJ RTTY 31 dB 45 BPS CQ 1240Z | 2017-10-20 12:40:01 |
| RBN | DX de W3LPL-#: 14082.9 EC1DJ RTTY 18 dB 45 BPS CQ 1239Z | 2017-10-20 12:39:50 |
| RBN | DX de KM3T-2-#: 14082.9 EC1DJ RTTY 13 dB 45 BPS CQ 1234Z | 2017-10-20 12:34:50 |
| RBN | DX de KM3T-#: 14082.98 EC1DJ RTTY 10 dB 45 BPS CQ 1234Z | 2017-10-20 12:34:05 |
| RBN | DX de SM6FMB-#: 14083.2 EC1DJ RTTY 16 dB 45 BPS CQ 1232Z | 2017-10-20 12:32:23 |
| RBN | DX de LA6TPA-#: 14083.0 EC1DJ RTTY 14 dB 45 BPS CQ 1230Z | 2017-10-20 12:30:59 |
| RBN | DX de WZ7I-#: 14083.0 EC1DJ RTTY 16 dB 45 BPS CQ 1230Z | 2017-10-20 12:30:22 |
| RBN | DX de S50ARX-#: 14083.0 EC1DJ RTTY 13 dB 45 BPS CQ 1230Z | 2017-10-20 12:30:20 |
| RBN | DX de F5RRS-#: 14083.2 EC1DJ RTTY 29 dB 45 BPS CQ 1230Z | 2017-10-20 12:30:08 |
| RBN | DX de I2DMI-#: 14083.1 EC1DJ RTTY 17 dB 45 BPS CQ 1230Z | 2017-10-20 12:30:05 |
| RBN | DX de EA5WU-#: 14083.0 EC1DJ RTTY 23 dB 45 BPS CQ 1230Z | 2017-10-20 12:30:04 |
| RBN | DX de LZ7AA-#: 14083.0 EC1DJ RTTY 17 dB 45 BPS CQ 1230Z | 2017-10-20 12:30:04 |
| RBN | DX de OL7M-#: 14083.1 EC1DJ RTTY 18 dB 45 BPS CQ 1230Z | 2017-10-20 12:30:01 |
| RBN | DX de GI4DOH-#: 14083.0 EC1DJ RTTY 29 dB 45 BPS CQ 1230Z | 2017-10-20 12:30:01 |
| RBN | DX de W3LPL-#: 14082.9 EC1DJ RTTY 10 dB 45 BPS CQ 1229Z | 2017-10-20 12:29:50 |
| DXC | DX de EC1DJ: 14242.0 DL2RUF/P FF 44 1123Z | 2017-10-20 11:23:00 |
| DXC | DX de EC1DJ: 7125.0 SV3GLL 59 1637Z | 2017-10-15 16:37:00 |
| DXC | DX de EC1DJ: 7173.0 M0UOO/P tnx QSO 1918Z | 2017-10-13 19:18:00 |
| DXC | DX de EC1DJ: 7144.0 OZ0FR TNX 44 1849Z | 2017-10-13 18:49:00 |
| DXC | DX de EA1DZ: 7123.0 EC1DJ 1724Z | 2017-10-13 17:24:00 |
| DXC | DX de EA1DZ: 7123.0 EC1DJ cq-cq 1723Z | 2017-10-13 17:23:00 |
| DXC | DX de PG0DX: 28460.0 EC1DJ cq cq 1511Z | 2017-10-12 15:11:00 |
| DXC | DX de EC1DJ: 7160.0 G1OCN/M Flora and Fauna 1122Z | 2017-10-12 11:22:00 |
| DXC | DX de EA5UI: 7163.0 EC1DJ DME-15074 1723Z | 2017-10-07 17:23:00 |
| DXC | DX de EB5RR: 7163.0 EC1DJ tnx QSO 1705Z | 2017-10-07 17:05:00 |
| DXC | DX de EA4GIB: 7163.0 EC1DJ 15704 1700Z | 2017-10-07 17:00:00 |
| DXC | DX de F4GQP: 14285.0 EC1DJ CQ CQ CQ tnx qso 1944Z | 2017-10-06 19:44:00 |
| DXC | DX de IW2DKV: 14180.0 EC1DJ s5/r5 qsb 1825Z | 2017-10-02 18:25:00 |
| DXC | DX de EI7HBB: 28485.0 EC1DJ 1743Z | 2017-10-02 17:43:00 |
| DXC | DX de EC1DJ: 14222.0 A71FJ 59 73 de Mike 1338Z | 2017-09-21 13:38:00 |
| RBN | DX de SV1DPJ-#: 7040.3 EC1DJ PSK63 22 dB 63 BPS CQ 2021Z | 2017-09-20 20:21:07 |
| DXC | DX de EC1DJ: 7090.0 EG2MFP VGNA128 DME31166 1242Z | 2015-06-06 12:42:00 |
| DXC | DX de EC1DJ: 7065.0 EA5RD CQ EA134 1946Z | 2015-06-05 19:46:00 |
| RBN | DX de DL4RCK-#: 14071.9 EC1DJ BPSK 19 dB 31 BPS CQ 1724Z | 2015-05-31 17:24:04 |
| RBN | DX de DL4RCK-#: 14071.9 EC1DJ BPSK 18 dB 31 BPS CQ 1715Z | 2015-05-31 17:15:44 |
| RBN | DX de DL4RCK-#: 14071.9 EC1DJ BPSK 26 dB 31 BPS CQ 1659Z | 2015-05-31 16:59:44 |
| RBN | DX de DL4RCK-#: 14071.9 EC1DJ BPSK 24 dB 31 BPS CQ 1658Z | 2015-05-31 16:58:24 |
| DXC | DX de EC1DJ: 21322.0 AN4LT ON4LT Correct call 1612Z | 2015-05-30 16:12:00 |
| DXC | DX de EC1DJ: 21322.0 ON4LT Correct Call 1612Z | 2015-05-30 16:12:00 |
| DXC | DX de SV1MLL: 24922.0 EC1DJ THX 599/s9+2 73 1510Z | 2015-05-30 15:10:00 |
| DXC | DX de EC1DJ: 14260.0 R120E CQ FF 1304Z | 2015-05-30 13:04:00 |
| RBN | DX de KM3T-#: 10145.39 EC1DJ RTTY 28 dB 45 BPS CQ 2152Z | 2015-05-27 21:52:32 |
| RBN | DX de DF4UE-#: 10144.97 EC1DJ RTTY 39 dB 45 BPS CQ 2053Z | 2015-05-26 20:53:45 |
| DXC | DX de EA5HJY: 7078.0 EC1DJ MVPO:0462, CG051, DME:36060 1155Z | 2015-05-22 11:55:00 |
| DXC | DX de EC1DJ: 14082.8 A0150I Gracias (RTTY) 2054Z | 2015-05-19 20:54:00 |
| DXC | DX de EC1DJ: 7074.0 PI4WBR CQ 1941Z | 2015-05-18 19:41:00 |
| DXC | DX de EA1DZ: 50220.0 EC1DJ QSX 50225.00 USB 1831Z | 2015-05-15 18:31:00 |
| DXC | DX de EC1DJ: 50195.0 EA1DZ tnx QSO 1830Z | 2015-05-15 18:30:00 |
| DXC | DX de EA1DZ: 14265.0 EC1DJ USB 1828Z | 2015-05-15 18:28:00 |
| RBN | DX de DF4UE-#: 28121.1 EC1DJ PSK31 26 dB 31 BPS CQ 1403Z | 2015-05-11 14:03:33 |
| RBN | DX de DF4UE-#: 28121.1 EC1DJ PSK31 15 dB 31 BPS CQ 1345Z | 2015-05-11 13:45:52 |
| DXC | DX de EC1DJ: 7087.9 EA4AVM/P CQ 0842Z | 2015-05-11 08:42:00 |
| DXC | DX de EC1DJ: 7130.0 EA5GPC/M Frecuencia correcta... 0736Z | 2015-05-11 07:36:00 |
| DXC | DX de EC1DJ: 7113.0 EA5GPC/M 7113.0 0736Z | 2015-05-11 07:36:00 |
| DXC | DX de EC1DJ: 7000.0 EA5GPC/M CQ (Tiene QRM) 0730Z | 2015-05-11 07:30:00 |
| DXC | DX de EC1DJ: 7096.0 9A70DP QRT now 2126Z | 2015-05-10 21:26:00 |
| DXC | DX de EC1DJ: 7096.0 9A70DP tnx QSO 2125Z | 2015-05-10 21:25:00 |
| DXC | DX de EC1DJ: 7093.0 EA4FTN VGM-042 2011Z | 2015-05-09 20:11:00 |
| DXC | DX de EC1DJ: 7105.0 EA4FTV/P CC011 cq 1303Z | 2015-05-08 13:03:00 |
| DXC | DX de EC1DJ: 7075.0 EA1RCI/ICA MVPO457 DME36060 1409Z | 2015-05-07 14:09:00 |
| DXC | DX de EC1DJ: 7083.0 EA1RCI/ICA MVPO457 DME36060 1357Z | 2015-05-07 13:57:00 |
| DXC | DX de EC1DJ: 7080.0 EA1RCI/ICA CQ YL 1116Z | 2015-05-07 11:16:00 |
| DXC | DX de EC1DJ: 7080.0 EA1RCI/IAC activano dme 36060 1109Z | 2015-05-07 11:09:00 |
| DXC | DX de EC1DJ: 7085.0 EA1RCI/IAC activado dme 36060 0956Z | 2015-05-07 09:56:00 |
| DXC | DX de EC1DJ: 7085.0 EA1RCI activandodmv6060 0931Z | 2015-05-07 09:31:00 |
| DXC | DX de EC1DJ: 7080.0 EA1RCI/ICA activando dmv 36060 0919Z | 2015-05-07 09:19:00 |
| DXC | DX de EC1DJ: 14165.0 TC100K CQ Alone 1931Z | 2015-05-04 19:31:00 |
| DXC | DX de EC1DJ: 7120.0 EA1EU DME 26087 1549Z | 2015-05-04 15:49:00 |
| DXC | DX de EC1DJ: 7165.0 ED4DOC/P CQ DME 10085 1507Z | 2015-05-03 15:07:00 |
| DXC | DX de EC1DJ: 7070.0 IK0FGL Disturbed by shameful DQRM... 1 | 2015-05-02 19:08:00 |
| DXC | DX de EC1DJ: 18115.0 IC8BNR CQ EU131 1852Z | 2015-05-02 18:52:00 |
| DXC | DX de CE3MDA: 28120.0 EC1DJ 599 Santiago Chile PSK 31 1717 | 2015-05-02 17:17:00 |
| DXC | DX de EC1DJ: 7140.0 EC5AHA CQ cv149 1500Z | 2015-05-02 15:00:00 |
| DXC | DX de EC1DJ: 24955.0 A66AB CQ 1458Z | 2015-05-02 14:58:00 |
| RBN | DX de DL9GTB-#: 7042.1 EC1DJ PSK31 25 dB 31 BPS CQ 2052Z | 2015-05-01 20:52:08 |
| RBN | DX de DF4UE-#: 7042.1 EC1DJ PSK31 25 dB 31 BPS CQ 2039Z | 2015-05-01 20:39:50 |
| RBN | DX de DL9GTB-#: 7042.1 EC1DJ PSK31 28 dB 31 BPS CQ 2039Z | 2015-05-01 20:39:48 |
| RBN | DX de DF4UE-#: 7042.1 EC1DJ PSK31 21 dB 31 BPS CQ 2035Z | 2015-05-01 20:35:30 |
| RBN | DX de DF4UE-#: 7042.1 EC1DJ PSK31 17 dB 31 BPS CQ 2030Z | 2015-05-01 20:30:10 |
| RBN | DX de DL9GTB-#: 7042.1 EC1DJ PSK31 18 dB 31 BPS CQ 2023Z | 2015-05-01 20:23:49 |
| DXC | DX de EC1DJ: 14152.0 7X2VB Amin wellcome to HAMradio! 1802Z | 2015-05-01 18:02:00 |
| DXC | DX de EC1DJ: 7130.0 EA2CVO/P Últimas llamadas 1719Z | 2015-05-01 17:19:00 |
| DXC | DX de EC1DJ: 7095.0 EG90IARU/P CQ 1845Z | 2015-04-30 18:45:00 |
| DXC | DX de EC1DJ: 7090.0 EA2DZX CBI052 1740Z | 2015-04-30 17:40:00 |
| DXC | DX de EC1DJ: 28330.0 CX90IARU CQ 1736Z | 2015-04-30 17:36:00 |
| DXC | DX de SV1KYC: 28468.0 EC1DJ 1735Z | 2015-04-23 17:35:00 |
| DXC | DX de LZ2FL: 28467.9 EC1DJ 1706Z | 2015-04-23 17:06:00 |
| DXC | DX de SV1NZR: 28468.0 EC1DJ cq 1705Z | 2015-04-23 17:05:00 |
| DXC | DX de EC1DJ: 18135.0 ON7AB CQ 1651Z | 2015-04-23 16:51:00 |
| DXC | DX de EC1DJ: 28450.0 HC5VF CQ 1644Z | 2015-04-23 16:44:00 |
| DXC | DX de EC1DJ: 28463.0 9W2ZHL CQ 1627Z | 2015-04-23 16:27:00 |
| RBN | DX de DF4UE-#: 24921.7 EC1DJ BPSK 24 dB 31 BPS CQ 1538Z | 2015-04-23 15:38:34 |
| DXC | DX de EC1DJ: 7169.0 EB1ITJ/P 49184 DME VGza162 1522Z | 2015-04-23 15:22:00 |
| DXC | DX de EC1DJ: 28447.0 4X4FR Mr Rafi CQ 1515Z | 2015-04-23 15:15:00 |
| DXC | DX de UT5EDU: 28121.4 EC1DJ psk31 1230Z | 2015-04-22 12:30:00 |
| DXC | DX de UT5EDU: 28121.5 EC1DJ BPSK-31 1229Z | 2015-04-22 12:29:00 |
| DXC | DX de EC1DJ: 7115.0 EC4DA CTO-050 1321Z | 2015-04-19 13:21:00 |
| DXC | DX de EC1DJ: 7103.0 EA1GTX VGOU-101 1100Z | 2015-04-19 11:00:00 |
| DXC | DX de EC1DJ: 28500.0 A43WARD World Radio Day 1211Z | 2015-04-18 12:11:00 |
| DXC | DX de EC1DJ: 7103.0 A0590AHA DCE CV027 1812Z | 2015-04-17 18:12:00 |
| DXC | DX de EC1DJ: 14243.0 7U7WARD Op Amin World Amateur Radio Day | 2015-04-17 18:08:00 |
| DXC | DX de EC1DJ: 7109.0 EA4ZR/P Vértice VGSG-008 1622Z | 2015-04-17 16:22:00 |
| DXC | DX de EC1DJ: 7113.0 EA4URQ La Radio en las Escuelas (URE) | 2015-04-17 10:59:00 |
| DXC | DX de EC1DJ: 28076.0 ND7M USB 1840Z | 2015-04-09 18:40:00 |
| DXC | DX de AM590RKE: 28140.0 EC1DJ ROS4 BEACON 1636Z | 2015-04-08 16:36:00 |
| DXC | DX de EC1DJ: 28449.9 V51MA List, Escelent opereator! 1647Z | 2015-03-31 16:47:00 |
| DXC | DX de EC1DJ: 18127.0 UE1KR CQ 1629Z | 2015-03-31 16:29:00 |
| DXC | DX de EC1DJ: 7095.0 EB3CNV/P CQ Ermita 1610Z | 2015-03-31 16:10:00 |
| DXC | DX de EC1DJ: 7087.0 EA1BQR CQ 1435Z | 2015-03-20 14:35:00 |
| DXC | DX de EC1DJ: 7100.0 EA7CQQ CQ 2156Z | 2015-03-16 21:56:00 |
| DXC | DX de EC1DJ: 7120.0 EG1VA Joven YL CQ 1238Z | 2015-03-13 12:38:00 |
| DXC | DX de EC1DJ: 7078.0 EA9URC Secondary school in Ceuta 1125Z | 2015-03-09 11:25:00 |
| DXC | DX de EC1DJ: 28447.0 PJ2/WE9V Split donw 1640Z | 2015-03-06 16:40:00 |
| DXC | DX de EC1DJ: 28560.0 KG4WV CQ 2015Z | 2015-03-05 20:15:00 |
| DXC | DX de EC1DJ: 28079.7 KH6/NA2U RTTY !!! 1926Z | 2015-03-05 19:26:00 |
| RBN | DX de WZ7I-#: 28082.89 EC1DJ RTTY 14 dB 45 BPS CQ 1916Z | 2015-03-05 19:16:01 |
| RBN | DX de K4XD-#: 7042.9 EC1DJ RTTY 21 dB 45 BPS CQ 2304Z | 2015-03-02 23:04:57 |
| RBN | DX de KM3T-#: 7042.93 EC1DJ RTTY 17 dB 45 BPS CQ 2304Z | 2015-03-02 23:04:43 |
| RBN | DX de N2QT-#: 7042.89 EC1DJ RTTY 20 dB 45 BPS CQ 2304Z | 2015-03-02 23:04:42 |
| RBN | DX de DL9GTB-#: 7043.0 EC1DJ RTTY 21 dB 45 BPS CQ 2304Z | 2015-03-02 23:04:35 |
| RBN | DX de DF4UE-#: 7042.90 EC1DJ RTTY 25 dB 45 BPS CQ 2304Z | 2015-03-02 23:04:31 |
| RBN | DX de WE9V-#: 7042.90 EC1DJ RTTY 6 dB 45 BPS CQ 2259Z | 2015-03-02 22:59:26 |
| RBN | DX de K1TTT-#: 7042.9 EC1DJ RTTY 20 dB 45 BPS CQ 2257Z | 2015-03-02 22:57:51 |
| RBN | DX de DF4UE-#: 7042.90 EC1DJ RTTY 17 dB 45 BPS CQ 2254Z | 2015-03-02 22:54:31 |
| RBN | DX de DL9GTB-#: 7043.0 EC1DJ RTTY 26 dB 45 BPS CQ 2253Z | 2015-03-02 22:53:04 |
| RBN | DX de N2QT-#: 7042.91 EC1DJ RTTY 20 dB 45 BPS CQ 2252Z | 2015-03-02 22:52:57 |
| RBN | DX de KM3T-#: 7042.93 EC1DJ RTTY 18 dB 45 BPS CQ 2252Z | 2015-03-02 22:52:57 |
| RBN | DX de K4XD-#: 7042.9 EC1DJ RTTY 18 dB 45 BPS CQ 2252Z | 2015-03-02 22:52:56 |
| RBN | DX de DF4UE-#: 7042.89 EC1DJ RTTY 25 dB 45 BPS CQ 2244Z | 2015-03-02 22:44:15 |
| RBN | DX de WE9V-#: 7042.89 EC1DJ RTTY 8 dB 45 BPS CQ 2242Z | 2015-03-02 22:42:55 |
| RBN | DX de DL9GTB-#: 7043.0 EC1DJ RTTY 22 dB 45 BPS CQ 2242Z | 2015-03-02 22:42:19 |
| RBN | DX de N2QT-#: 7042.89 EC1DJ RTTY 21 dB 45 BPS CQ 2242Z | 2015-03-02 22:42:12 |
| RBN | DX de K1TTT-#: 7042.9 EC1DJ RTTY 30 dB 45 BPS CQ 2242Z | 2015-03-02 22:42:06 |
| RBN | DX de KM3T-#: 7042.91 EC1DJ RTTY 28 dB 45 BPS CQ 2241Z | 2015-03-02 22:41:57 |
| RBN | DX de K4XD-#: 7042.9 EC1DJ RTTY 17 dB 45 BPS CQ 2241Z | 2015-03-02 22:41:56 |
| DXC | DX de IZ2IUT: 7039.4 EC1DJ RTTY 2240Z | 2015-03-02 22:40:00 |
| RBN | DX de DF4UE-#: 7042.90 EC1DJ RTTY 25 dB 45 BPS CQ 2233Z | 2015-03-02 22:34:00 |
| RBN | DX de SV8RV-#: 7043.0 EC1DJ RTTY 13 dB 45 BPS CQ 2233Z | 2015-03-02 22:33:51 |
| RBN | DX de N2QT-#: 7042.91 EC1DJ RTTY 18 dB 45 BPS CQ 2232Z | 2015-03-02 22:32:12 |
| RBN | DX de N2QT-#: 7042.92 EC1DJ RTTY 18 dB 45 BPS CQ 2231Z | 2015-03-02 22:31:12 |
| RBN | DX de KM3T-#: 7042.93 EC1DJ RTTY 19 dB 45 BPS CQ 2230Z | 2015-03-02 22:30:42 |
| RBN | DX de K4XD-#: 7042.9 EC1DJ RTTY 21 dB 45 BPS CQ 2230Z | 2015-03-02 22:30:40 |
| RBN | DX de K1TTT-#: 7042.9 EC1DJ RTTY 23 dB 45 BPS CQ 2230Z | 2015-03-02 22:30:36 |
| RBN | DX de DL9GTB-#: 7043.0 EC1DJ RTTY 21 dB 45 BPS CQ 2230Z | 2015-03-02 22:30:34 |
| RBN | DX de WZ7I-#: 7042.89 EC1DJ RTTY 23 dB 45 BPS CQ 2230Z | 2015-03-02 22:30:33 |
| RBN | DX de DF4UE-#: 7042.89 EC1DJ RTTY 24 dB 45 BPS CQ 2223Z | 2015-03-02 22:23:45 |
| RBN | DX de KM3T-#: 7042.90 EC1DJ RTTY 22 dB 45 BPS CQ 2219Z | 2015-03-02 22:19:26 |
| RBN | DX de WE9V-#: 7042.88 EC1DJ RTTY 13 dB 45 BPS CQ 2219Z | 2015-03-02 22:19:25 |
| RBN | DX de SV8RV-#: 7042.9 EC1DJ RTTY 13 dB 45 BPS CQ 2219Z | 2015-03-02 22:19:21 |
| RBN | DX de DL9GTB-#: 7042.9 EC1DJ RTTY 26 dB 45 BPS CQ 2219Z | 2015-03-02 22:19:04 |
| RBN | DX de N2QT-#: 7042.87 EC1DJ RTTY 33 dB 45 BPS CQ 2218Z | 2015-03-02 22:18:57 |
| RBN | DX de K4XD-#: 7042.9 EC1DJ RTTY 31 dB 45 BPS CQ 2218Z | 2015-03-02 22:18:10 |
| RBN | DX de K1TTT-#: 7042.9 EC1DJ RTTY 27 dB 45 BPS CQ 2218Z | 2015-03-02 22:18:06 |
| RBN | DX de WZ7I-#: 7042.86 EC1DJ RTTY 31 dB 45 BPS CQ 2218Z | 2015-03-02 22:18:02 |
| RBN | DX de DF4UE-#: 7042.87 EC1DJ RTTY 27 dB 45 BPS CQ 2213Z | 2015-03-02 22:13:45 |
| RBN | DX de KM3T-#: 7042.89 EC1DJ RTTY 20 dB 45 BPS CQ 2209Z | 2015-03-02 22:09:11 |
| RBN | DX de SV8RV-#: 7042.9 EC1DJ RTTY 13 dB 45 BPS CQ 2209Z | 2015-03-02 22:09:05 |
| RBN | DX de N2QT-#: 7042.87 EC1DJ RTTY 16 dB 45 BPS CQ 2208Z | 2015-03-02 22:08:27 |
| RBN | DX de DL9GTB-#: 7042.9 EC1DJ RTTY 21 dB 45 BPS CQ 2207Z | 2015-03-02 22:07:33 |
| RBN | DX de WZ7I-#: 7042.86 EC1DJ RTTY 31 dB 45 BPS CQ 2205Z | 2015-03-02 22:05:33 |
| RBN | DX de K4XD-#: 7042.9 EC1DJ RTTY 18 dB 45 BPS CQ 2205Z | 2015-03-02 22:05:25 |
| RBN | DX de DF4UE-#: 7042.88 EC1DJ RTTY 22 dB 45 BPS CQ 2203Z | 2015-03-02 22:03:29 |
| RBN | DX de K1TTT-#: 7042.9 EC1DJ RTTY 16 dB 45 BPS CQ 2203Z | 2015-03-02 22:03:21 |
| RBN | DX de KM3T-#: 7042.90 EC1DJ RTTY 22 dB 45 BPS CQ 2159Z | 2015-03-02 21:59:11 |
| RBN | DX de N2QT-#: 7042.88 EC1DJ RTTY 21 dB 45 BPS CQ 2158Z | 2015-03-02 21:58:27 |
| RBN | DX de SV8RV-#: 7042.9 EC1DJ RTTY 9 dB 45 BPS CQ 2157Z | 2015-03-02 21:57:50 |
| RBN | DX de DL9GTB-#: 7042.9 EC1DJ RTTY 20 dB 45 BPS CQ 2157Z | 2015-03-02 21:57:18 |
| RBN | DX de K4XD-#: 7042.9 EC1DJ RTTY 15 dB 45 BPS CQ 2153Z | 2015-03-02 21:53:38 |