Website is running in some kind of save mode. More information in
News section
. If you find something that does not work
let me know
, please.
F4MZI
Lookups: 1542
| Bureau | Direct | LoTW | eQSL
Name:
Pierre-Philippe
QTH:
Saint Amand les Eaux
Country:
France
Grid:
JO10RK
Web:
http://www.f4mzi.net
Email:
Hidden
Hidden
Hidden
Hidden
France
Licensed since:
1987
Born:
1965
My QRSS beacon is active on 1.843Mhz
It works QRRS3 mode with 150mW and a randon wire
Thank you for your reports to f4mzi (at) f4mzi.net
Working conditions :
For numeric modes (RTTY, ROS, OPERA JT65and CW) and as often as possible in phone on HF bands : FT817-ND Ant FD4 always QRP (max 5w)
Otherwise, on V/UHF, I use a FT847 and a Wimo X-Quad (VHF) and 3elements HB9CV (UHF)
On 50Mhz, I use the FT-817ND with a home made 3el Yagi
You can contact me via email or via Jabber XMPP instant messenger at : f4mzi (at) jabber.f5kaz.fr
I chose not to renew my membership in the REF. Thus, for the exchange of QSL, It is safer to use eQSL.cc service.
If you send me a QSL directly, I will answer you directly. Needless to attach an envelope or IRC
La balise QRSS est active sur 1.843Mhz
Le mode utilisé est le QRSS3 avec 150mW sur un long fil
Merci de me faire vos reports f4mzi (at) f4mzi.net
Conditions de trafic :
Pour les modes numériques (RTTY, ROS, OPERA JT65and CW) et autant que possible en phonie sur les bandes HF : FT817-ND antenne FD4 toujours en QRP (5w maxi)
Sinon, en V/UHF, j'utilise un FT847 et une antenne X-QUAD de chez Wimo (VHF) ou une HB9CV 3 éléments pour l'UHF
Sur 50Mhz, j'utilise le FT-817ND et une antenne 3 éléments Yagi de fabrication personnelle
J'ai choisi de ne pas renouveller mon adhésion au REF. Ainsi, pour l'échange de QSL, il est plus sûr de passer par eQSL.cc
Si vous m'envoyez une QSL en direct, je vous répondrai en direct. Inutile de joindre une enveloppe ou un IRC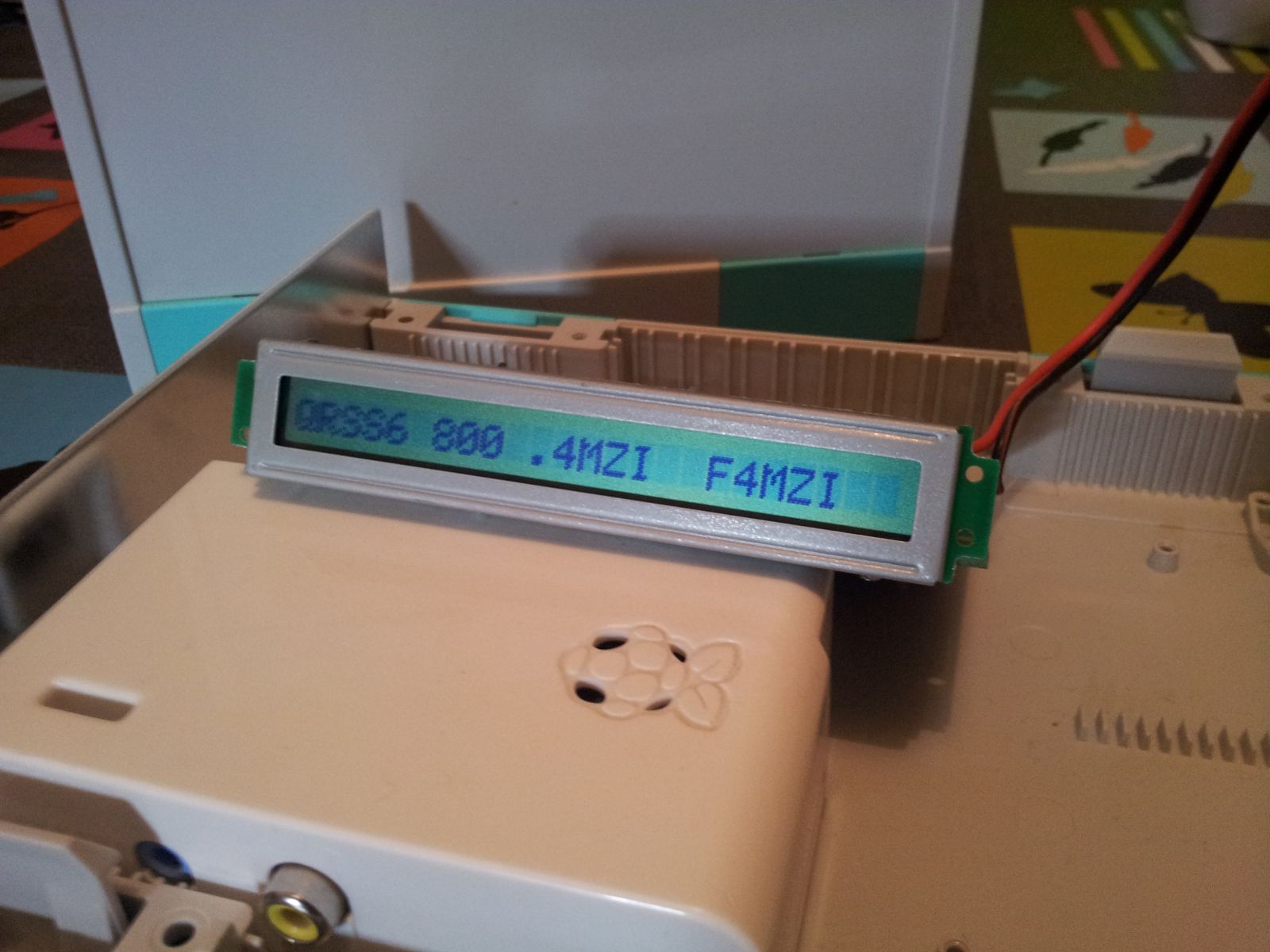 | Source | Activity | Date time |
| --- | --- | --- |
| RBN | DX de WZ7I-#: 14081.6 F4MZI RTTY 24 dB 45 BPS CQ 2026Z | 2017-10-15 20:26:40 |
| RBN | DX de W3LPL-#: 14081.6 F4MZI RTTY 18 dB 45 BPS CQ 2026Z | 2017-10-15 20:26:06 |
| RBN | DX de LZ7AA-#: 14080.8 F4MZI RTTY 33 dB 45 BPS CQ 1530Z | 2017-10-13 15:30:12 |
| RBN | DX de EA5WU-#: 14080.9 F4MZI RTTY 36 dB 45 BPS CQ 1530Z | 2017-10-13 15:30:10 |
| RBN | DX de KM3T-#: 14080.85 F4MZI RTTY 12 dB 45 BPS CQ 1530Z | 2017-10-13 15:30:08 |
| RBN | DX de W3LPL-#: 14080.8 F4MZI RTTY 14 dB 45 BPS CQ 1530Z | 2017-10-13 15:30:08 |
| RBN | DX de WZ7I-#: 14080.9 F4MZI RTTY 31 dB 45 BPS CQ 1530Z | 2017-10-13 15:30:07 |
| RBN | DX de SV8RV-#: 14071.2 F4MZI PSK31 13 dB 31 BPS CQ 1707Z | 2017-10-12 17:07:49 |
| RBN | DX de F5RRS-#: 14082.3 F4MZI RTTY 31 dB 45 BPS CQ 1705Z | 2017-10-12 17:05:46 |
| RBN | DX de WZ7I-#: 14082.1 F4MZI RTTY 30 dB 45 BPS CQ 1705Z | 2017-10-12 17:05:35 |
| RBN | DX de S50ARX-#: 7036.5 F4MZI RTTY 34 dB 45 BPS CQ 0938Z | 2017-10-11 09:38:02 |
| RBN | DX de EA5WU-#: 7036.5 F4MZI RTTY 24 dB 45 BPS CQ 0937Z | 2017-10-11 09:37:56 |
| DXC | DX de F4MZI: 14067.0 TM5MC 0107Z | 2017-10-08 01:07:00 |
| DXC | DX de F4MZI: 14067.0 TM5MC SimPSK 0051Z | 2017-10-08 00:51:00 |
| DXC | DX de F4MZI: 7045.0 TM5MC Sim-PSK 0140Z | 2017-10-07 01:40:00 |
| RBN | DX de WZ7I-#: 14081.1 F4MZI RTTY 24 dB 45 BPS CQ 2049Z | 2017-09-29 20:49:42 |
| RBN | DX de DL3KR-#: 7030.5 F4MZI CW 32 dB 12 WPM CQ 1636Z | 2017-09-29 16:36:35 |
| RBN | DX de DL9GTB-#: 7030.6 F4MZI CW 21 dB 12 WPM CQ 1636Z | 2017-09-29 16:36:26 |
| RBN | DX de DJ9IE-#: 7030.6 F4MZI CW 19 dB 12 WPM CQ 1636Z | 2017-09-29 16:36:25 |
| RBN | DX de SM6FMB-#: 7030.6 F4MZI CW 12 dB 11 WPM CQ 1636Z | 2017-09-29 16:36:24 |
| RBN | DX de GW8IZR-#: 7030.6 F4MZI CW 38 dB 12 WPM CQ 1636Z | 2017-09-29 16:36:09 |
| RBN | DX de HB9BXE-#: 7030.5 F4MZI CW 26 dB 12 WPM CQ 1636Z | 2017-09-29 16:36:06 |
| RBN | DX de HB9DCO-#: 7030.6 F4MZI CW 20 dB 12 WPM CQ 1636Z | 2017-09-29 16:36:05 |
| RBN | DX de SK3W-#: 7030.6 F4MZI CW 16 dB 12 WPM CQ 1636Z | 2017-09-29 16:36:04 |
| RBN | DX de DK0TE-#: 7030.6 F4MZI CW 26 dB 12 WPM CQ 1636Z | 2017-09-29 16:36:02 |
| RBN | DX de HA1VHF-#: 7030.5 F4MZI CW 16 dB 12 WPM CQ 1635Z | 2017-09-29 16:36:00 |
| RBN | DX de OE6TZE-#: 7030.6 F4MZI CW 27 dB 12 WPM CQ 1635Z | 2017-09-29 16:36:00 |
| RBN | DX de DF4XX-#: 7030.5 F4MZI CW 13 dB 12 WPM CQ 1635Z | 2017-09-29 16:35:59 |
| RBN | DX de OL7M-#: 7030.5 F4MZI CW 19 dB 12 WPM CQ 1635Z | 2017-09-29 16:35:58 |
| RBN | DX de DL1RNN-#: 7030.6 F4MZI CW 18 dB 12 WPM CQ 1635Z | 2017-09-29 16:35:55 |
| RBN | DX de DL8LAS-#: 7030.5 F4MZI CW 19 dB 12 WPM CQ 1635Z | 2017-09-29 16:35:54 |
| RBN | DX de HB9JCB-#: 7030.5 F4MZI CW 32 dB 12 WPM CQ 1635Z | 2017-09-29 16:35:52 |
| RBN | DX de S50ARX-#: 7030.5 F4MZI CW 20 dB 12 WPM CQ 1635Z | 2017-09-29 16:35:52 |
| RBN | DX de SV8RV-#: 14071.3 F4MZI PSK31 19 dB 31 BPS CQ 1624Z | 2017-09-29 16:24:54 |
| RBN | DX de SV8RV-#: 14081.3 F4MZI RTTY 12 dB 45 BPS CQ 0756Z | 2017-09-29 07:56:09 |
| RBN | DX de EA5WU-#: 14081.1 F4MZI RTTY 9 dB 45 BPS CQ 2218Z | 2017-09-28 22:18:46 |
| RBN | DX de EA5WU-#: 7020.0 F4MZI CW 9 dB 18 WPM CQ 2210Z | 2017-09-28 22:10:08 |
| DXC | DX de 7Z1IS: 18100.0 F4MZI FT8 TNV Pierr 4 qso 1357Z | 2017-09-27 13:57:00 |
| DXC | DX de EA5DV: 7048.0 F4MZI ROS/16 6 wat 2101Z | 2017-09-16 21:01:00 |
| RBN | DX de DF4UE-#: 7031.0 F4MZI/QRP CW 9 dB 18 WPM CQ 1959Z | 2015-05-15 19:59:38 |
| RBN | DX de DJ9IE-#: 7031.0 F4MZI/QRP CW 8 dB 18 WPM CQ 1959Z | 2015-05-15 19:59:35 |
| RBN | DX de OE6TZE-#: 7031.0 F4MZI/QRP CW 11 dB 18 WPM CQ 1959Z | 2015-05-15 19:59:33 |
| RBN | DX de ON5KQ-#: 7031.0 F4MZI/QRP CW 19 dB 18 WPM CQ 1959Z | 2015-05-15 19:59:33 |
| RBN | DX de DF7GB-#: 7030.8 F4MZI/QRP CW 13 dB 18 WPM CQ 1948Z | 2015-05-15 19:48:16 |
| RBN | DX de GW8IZR-#: 7030.8 F4MZI/QRP CW 18 dB 18 WPM CQ 1948Z | 2015-05-15 19:48:09 |
| RBN | DX de ON6ZQ-#: 7030.6 F4MZI/QRP CW 21 dB 16 WPM CQ 1502Z | 2015-01-03 15:02:26 |
| RBN | DX de DF4UE-#: 7030.6 F4MZI/QRP CW 3 dB 16 WPM CQ 1502Z | 2015-01-03 15:02:24 |
| RBN | DX de G4PNF-#: 7030.6 F4MZI/QRP CW 14 dB 12 WPM CQ 1459Z | 2015-01-03 14:59:56 |
| RBN | DX de F5MUX-#: 3558.5 F4MZI CW 17 dB 18 WPM CQ 2051Z | 2014-12-29 20:51:48 |
| RBN | DX de DL2CC-#: 3558.5 F4MZI/QRP CW 18 dB 18 WPM CQ 2050Z | 2014-12-29 20:50:53 |
| RBN | DX de DF7GB-#: 3558.5 F4MZI/QRP CW 17 dB 18 WPM CQ 2050Z | 2014-12-29 20:50:50 |
| RBN | DX de DL8LAS-#: 3558.5 F4MZI/QRP CW 14 dB 18 WPM CQ 2050Z | 2014-12-29 20:50:48 |
| RBN | DX de ON5KQ-#: 3558.5 F4MZI/QRP CW 16 dB 18 WPM CQ 2050Z | 2014-12-29 20:50:41 |
| RBN | DX de DK9IP-#: 3558.5 F4MZI/QRP CW 12 dB 18 WPM CQ 2050Z | 2014-12-29 20:50:15 |
| DXC | DX de ON3BR: 14070.0 F4MZI cq new SIM31 mode 1634Z | 2014-12-28 16:34:00 |
| RBN | DX de F6IIT-#: 7031.7 F4MZI/QRP CW 17 dB 20 WPM CQ 1642Z | 2014-12-23 16:42:19 |
| RBN | DX de EI6BT-#: 7031.7 F4MZI/QRP CW 16 dB 20 WPM CQ 1642Z | 2014-12-23 16:42:04 |
| RBN | DX de ON6ZQ-#: 7031.7 F4MZI/QRP CW 24 dB 20 WPM CQ 1641Z | 2014-12-23 16:41:48 |
| RBN | DX de HA2KSD-#: 7031.7 F4MZI/QRP CW 18 dB 20 WPM CQ 1641Z | 2014-12-23 16:41:46 |
| RBN | DX de DF7GB-#: 7031.7 F4MZI/QRP CW 24 dB 20 WPM CQ 1641Z | 2014-12-23 16:41:46 |
| RBN | DX de DL1EMY-#: 7031.7 F4MZI/QRP CW 18 dB 20 WPM CQ 1641Z | 2014-12-23 16:41:44 |
| RBN | DX de DJ9IE-#: 7031.7 F4MZI/QRP CW 14 dB 20 WPM CQ 1641Z | 2014-12-23 16:41:43 |
| RBN | DX de DK0TE-#: 7031.7 F4MZI/QRP CW 18 dB 20 WPM CQ 1641Z | 2014-12-23 16:41:42 |
| RBN | DX de GW8IZR-#: 7031.7 F4MZI/QRP CW 25 dB 20 WPM CQ 1641Z | 2014-12-23 16:41:40 |
| RBN | DX de DF4UE-#: 7031.7 F4MZI/QRP CW 11 dB 20 WPM CQ 1641Z | 2014-12-23 16:41:33 |
| RBN | DX de DJ3AK-#: 7031.7 F4MZI/QRP CW 14 dB 20 WPM CQ 1641Z | 2014-12-23 16:41:32 |
| RBN | DX de HA6M-#: 7031.7 F4MZI/QRP CW 13 dB 20 WPM CQ 1641Z | 2014-12-23 16:41:31 |
| RBN | DX de DK9IP-#: 7031.7 F4MZI/QRP CW 16 dB 20 WPM CQ 1641Z | 2014-12-23 16:41:29 |
| RBN | DX de HB9DCO-#: 7031.7 F4MZI/QRP CW 20 dB 20 WPM CQ 1641Z | 2014-12-23 16:41:29 |
| RBN | DX de DF7GB-#: 3561.1 F4MZI/QRP CW 19 dB 18 WPM CQ 2310Z | 2014-12-22 23:10:08 |
| RBN | DX de DJ9IE-#: 3561.0 F4MZI/QRP CW 23 dB 18 WPM CQ 2310Z | 2014-12-22 23:10:02 |
| RBN | DX de HA1VHF-#: 3561.0 F4MZI/QRP CW 10 dB 18 WPM CQ 2309Z | 2014-12-22 23:09:59 |
| RBN | DX de ON5KQ-#: 3561.1 F4MZI/QRP CW 19 dB 18 WPM CQ 2309Z | 2014-12-22 23:09:59 |
| RBN | DX de F6IIT-#: 3561.1 F4MZI/QRP CW 22 dB 18 WPM CQ 2309Z | 2014-12-22 23:09:59 |
| RBN | DX de F6IIT-#: 3552.1 F4MZI/QRP CW 23 dB 23 WPM CQ 2306Z | 2014-12-22 23:06:40 |
| RBN | DX de HA1VHF-#: 3552.1 F4MZI/QRP CW 32 dB 23 WPM CQ 2258Z | 2014-12-22 22:58:32 |
| RBN | DX de DL8LAS-#: 3552.0 F4MZI/QRP CW 12 dB 23 WPM CQ 2257Z | 2014-12-22 22:57:58 |
| RBN | DX de ON5KQ-#: 3552.0 F4MZI/QRP CW 18 dB 23 WPM CQ 2257Z | 2014-12-22 22:57:54 |
| RBN | DX de DF7GB-#: 3552.0 F4MZI/QRP CW 22 dB 23 WPM CQ 2257Z | 2014-12-22 22:57:47 |
| RBN | DX de DJ9IE-#: 3561.0 F4MZI/QRP CW 22 dB 22 WPM CQ 2252Z | 2014-12-22 22:52:42 |
| RBN | DX de HB9DCO-#: 7036.0 F4MZI/QRP CW 7 dB 17 WPM CQ 1420Z | 2014-12-22 14:20:30 |
| RBN | DX de DF4UE-#: 7036.0 F4MZI/QRP CW 4 dB 18 WPM CQ 1420Z | 2014-12-22 14:20:04 |
| RBN | DX de F6IIT-#: 7036.1 F4MZI/QRP CW 14 dB 18 WPM CQ 1419Z | 2014-12-22 14:19:52 |
| RBN | DX de DK9IP-#: 7036.0 F4MZI/QRP CW 7 dB 18 WPM CQ 1419Z | 2014-12-22 14:19:18 |
| RBN | DX de ON5KQ-#: 7036.0 F4MZI/QRP CW 7 dB 18 WPM CQ 1419Z | 2014-12-22 14:19:15 |
| DXC | DX de ON3BR: 14070.0 F4MZI cq new SIM31 mode 0904Z | 2014-12-18 09:04:00 |
| RBN | DX de G4HSO-#: 3561.5 F4MZI/QRP CW 10 dB 18 WPM CQ 1853Z | 2014-12-09 18:53:20 |
| RBN | DX de F6IIT-#: 3561.5 F4MZI/QRP CW 13 dB 18 WPM CQ 1853Z | 2014-12-09 18:53:14 |
| RBN | DX de DF4UE-#: 3561.5 F4MZI/QRP CW 3 dB 18 WPM CQ 1853Z | 2014-12-09 18:53:08 |
| RBN | DX de DJ9IE-#: 3561.5 F4MZI/QRP CW 22 dB 18 WPM CQ 1853Z | 2014-12-09 18:53:04 |
| RBN | DX de OE6TZE-#: 7031.1 F4MZI/QRP CW 12 dB 18 WPM CQ 1729Z | 2014-12-09 17:30:00 |
| RBN | DX de HA1VHF-#: 7031.0 F4MZI/QRP CW 19 dB 18 WPM CQ 1729Z | 2014-12-09 17:29:59 |
| RBN | DX de IK3STG-#: 7031.5 F4MZI/QRP CW 7 dB 18 WPM CQ 1725Z | 2014-12-09 17:25:27 |
| RBN | DX de GW8IZR-#: 7031.5 F4MZI/QRP CW 18 dB 18 WPM CQ 1724Z | 2014-12-09 17:24:47 |
| RBN | DX de F5RRS-#: 7031.5 F4MZI/QRP CW 8 dB 18 WPM CQ 1724Z | 2014-12-09 17:24:40 |
| RBN | DX de DJ9IE-#: 3561.0 F4MZI/QRP CW 23 dB 18 WPM CQ 1722Z | 2014-12-09 17:22:42 |
| RBN | DX de DL1EMY-#: 3561.0 F4MZI/QRP CW 14 dB 18 WPM CQ 1717Z | 2014-12-09 17:17:55 |
| RBN | DX de ON5KQ-#: 3561.0 F4MZI/QRP CW 21 dB 18 WPM CQ 1717Z | 2014-12-09 17:17:39 |
| RBN | DX de G0KTN-#: 3531.0 F4MZI/QRP CW 15 dB 24 WPM CQ 2035Z | 2014-12-06 20:35:29 |
| RBN | DX de F6IIT-#: 7031.0 F4MZI/QRP CW 9 dB 18 WPM CQ 1657Z | 2014-12-06 16:57:09 |
| RBN | DX de OK1IAK-#: 7030.9 F4MZI/QRP CW 15 dB 18 WPM CQ 1657Z | 2014-12-06 16:57:07 |
| RBN | DX de DK0TE-#: 7030.9 F4MZI/QRP CW 7 dB 18 WPM CQ 1657Z | 2014-12-06 16:57:01 |
| RBN | DX de SK3W-#: 7030.9 F4MZI/QRP CW 7 dB 18 WPM CQ 1656Z | 2014-12-06 16:56:52 |
| RBN | DX de DJ9IE-#: 7030.9 F4MZI/QRP CW 17 dB 18 WPM CQ 1656Z | 2014-12-06 16:56:47 |
| RBN | DX de HA2KSD-#: 7030.9 F4MZI/QRP CW 14 dB 18 WPM CQ 1656Z | 2014-12-06 16:56:40 |
| RBN | DX de DL1EMY-#: 7030.9 F4MZI/QRP CW 11 dB 18 WPM CQ 1656Z | 2014-12-06 16:56:40 |
| RBN | DX de DL1REM-#: 7030.9 F4MZI/QRP CW 19 dB 18 WPM CQ 1656Z | 2014-12-06 16:56:40 |
| RBN | DX de ON5KQ-#: 7030.9 F4MZI/QRP CW 5 dB 18 WPM CQ 1656Z | 2014-12-06 16:56:30 |
| RBN | DX de DL8LAS-#: 7030.9 F4MZI/QRP CW 10 dB 18 WPM CQ 1656Z | 2014-12-06 16:56:24 |
| RBN | DX de OE6TZE-#: 7031.0 F4MZI/QRP CW 8 dB 18 WPM CQ 1656Z | 2014-12-06 16:56:24 |
| RBN | DX de HB9DCO-#: 7030.9 F4MZI/QRP CW 6 dB 18 WPM CQ 1656Z | 2014-12-06 16:56:22 |
| RBN | DX de F6IIT-#: 7036.1 F4MZI/QRP CW 17 dB 16 WPM CQ 1526Z | 2014-12-06 15:26:09 |
| RBN | DX de DK9IP-#: 7036.0 F4MZI/QRP CW 14 dB 16 WPM CQ 1525Z | 2014-12-06 15:25:11 |
| RBN | DX de DJ9IE-#: 7036.0 F4MZI/QRP CW 14 dB 16 WPM CQ 1525Z | 2014-12-06 15:25:07 |
| RBN | DX de DL8LAS-#: 7036.0 F4MZI/QRP CW 23 dB 16 WPM CQ 1525Z | 2014-12-06 15:25:06 |
| RBN | DX de DF7GB-#: 7036.0 F4MZI/QRP CW 14 dB 16 WPM CQ 1525Z | 2014-12-06 15:25:06 |
| RBN | DX de DF4UE-#: 7036.0 F4MZI/QRP CW 9 dB 16 WPM CQ 1524Z | 2014-12-06 15:24:56 |
| RBN | DX de DF4UE-#: 7030.8 F4MZI/QRP CW 8 dB 18 WPM CQ 1438Z | 2014-12-06 14:38:54 |
| RBN | DX de DK0TE-#: 7030.8 F4MZI/QRP CW 7 dB 18 WPM CQ 1438Z | 2014-12-06 14:38:36 |
| RBN | DX de GW8IZR-#: 7030.8 F4MZI/QRP CW 9 dB 18 WPM CQ 1438Z | 2014-12-06 14:38:29 |
| RBN | DX de DF7GB-#: 7030.8 F4MZI/QRP CW 14 dB 18 WPM CQ 1438Z | 2014-12-06 14:38:21 |
| RBN | DX de HB9DCO-#: 7030.8 F4MZI/QRP CW 6 dB 18 WPM CQ 1438Z | 2014-12-06 14:38:17 |
| RBN | DX de DL1REM-#: 7030.8 F4MZI/QRP CW 12 dB 18 WPM CQ 1438Z | 2014-12-06 14:38:12 |
| RBN | DX de DK9IP-#: 7030.8 F4MZI/QRP CW 14 dB 18 WPM CQ 1438Z | 2014-12-06 14:38:10 |
| RBN | DX de DL1EMY-#: 7030.8 F4MZI/QRP CW 12 dB 18 WPM CQ 1438Z | 2014-12-06 14:38:10 |
| RBN | DX de DJ9IE-#: 7030.8 F4MZI/QRP CW 18 dB 18 WPM CQ 1438Z | 2014-12-06 14:38:07 |
| RBN | DX de HB9DCO-#: 7033.5 F4MZI/QRP CW 3 dB 18 WPM CQ 1437Z | 2014-12-06 14:37:19 |
| RBN | DX de DJ9IE-#: 7033.5 F4MZI/QRP CW 16 dB 18 WPM CQ 1437Z | 2014-12-06 14:37:07 |
| RBN | DX de EI6IZ-#: 7031.5 F4MZI/QRP CW 20 dB 18 WPM CQ 0818Z | 2014-11-22 08:18:44 |
| RBN | DX de DF7GB-#: 7031.5 F4MZI/QRP CW 34 dB 18 WPM CQ 0818Z | 2014-11-22 08:18:43 |
| RBN | DX de DJ9IE-#: 7031.5 F4MZI/QRP CW 32 dB 18 WPM CQ 0818Z | 2014-11-22 08:18:43 |
| RBN | DX de HB9DCO-#: 7031.5 F4MZI/QRP CW 16 dB 18 WPM CQ 0818Z | 2014-11-22 08:18:42 |
| RBN | DX de DL2CC-#: 7031.5 F4MZI/QRP CW 26 dB 18 WPM CQ 0818Z | 2014-11-22 08:18:40 |
| RBN | DX de DK9IP-#: 7031.5 F4MZI/QRP CW 21 dB 18 WPM CQ 0818Z | 2014-11-22 08:18:40 |
| RBN | DX de GW8IZR-#: 7031.5 F4MZI/QRP CW 25 dB 18 WPM CQ 0818Z | 2014-11-22 08:18:39 |
| DXC | DX de F4MZI: 24925.0 F4MZI/QRP 1937Z | 2014-04-06 19:37:00 |
| DXC | DX de F4MZI: 14076.0 PY9FP py9fp 2244Z | 2014-02-23 22:44:00 |
| DXC | DX de F4MZI: 14076.0 CX1BP py9fp 2243Z | 2014-02-23 22:43:00 |
| DXC | DX de F4MZI: 14076.0 CX1BP cx1bp JT65HF 2242Z | 2014-02-23 22:42:00 |